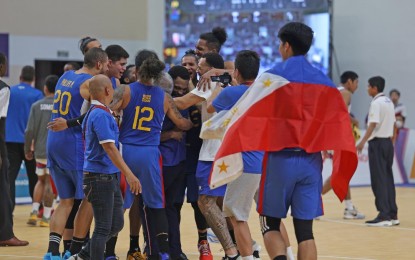 MANILA – Philippine Sports Commission (PSC) chair Richard Bachmann on Tuesday commended Filipino athletes in the ongoing 32nd Southeast Asian Games in Cambodia for winning 57 gold medals so far that surpassed the country's output in the previous edition in Vietnam.
"I am proud of our athletes. I saw how they worked hard—with my own eyes—while preparing for the Games and when they did battle in Cambodia," Bachmann said in a statement.
"Each moment our flag was raised in honor of a win was a proud moment for every Filipino."
On Tuesday, Gilas Pilipinas put an exclamation point on the country's campaign, thumping a suddenly listless Cambodian side 80-69 to regain the gold medal that matters most to Filipinos at Morodok Techo Stadium Elephant Hall 2 in Phnom Penh.
The Gilas' victory came after arnis and freestyle wrestling delivered a pair of golden wins that raised the country's total to 56 before 7 p.m., four more than the country's harvest in the 2022 Hanoi Games last year for a fourth-place finish.
Another gold, courtesy of Gretel de Paz in the 56kg of kickboxing low kick event, made it 57 an hour later.
Alvin Lobrequito took the honor of delivering the country's 52nd gold by humbling his Thai opponent, Nattawut Kaewkhuanchum, 6-2 in the men's freestyle wrestling event, while arnis proponent Trixie Marie Lofranco delivered the 53rd gold by ruling the women's individual anyo non-traditional open weapon category.
Another arnis entry, Crisamuel Delfin, topped the men's anyo non-traditional event for the 54th gold and another wrestler, Ronil Tubog, made it 55 by beating Indonesian Zainal Abidin in the men's freestyle 61kg event.
The wrestling team has four gold medals.
"A lot of people doubted this team the first time we lost. But the first words I told them when we lost was this was the one we could afford. And I thought that was the loss that we needed," said Gilas coach Chot Reyes, whose wards delivered the 56th gold.
"Win or lose, this was going to be my last SEA Games, I promised I'll never coach in the SEA Games anymore. At least, I will go out with a gold medal."
A day after ending the reign of Indonesia, its conqueror last year, Gilas hurdled the final obstacle in its bid to reclaim the gold with a pesky defense that stopped the Cambodians' usually high-octane offense.
The team's solid defensive effort was in full display in the second quarter, where they scored 23 while limiting the hosts to just 11 to grab a 44-33 halftime lead.
"We kept this team of what, five, six American imports to below 70 points, that is great defense, man," said Reyes, who earned the ire of Filipino fans when the team lost in Hanoi after 13 straight golds.
Bachmann vouched for the PSC's full support to Team Philippines' campaign in future international competitions.
"We reaffirm our support to our national athletes," he said. "The PSC will continue to work as hard as you train. Salamat sa lahat ng inyong sakripisyo (Thank you for your sacrifices!)." (PNA)