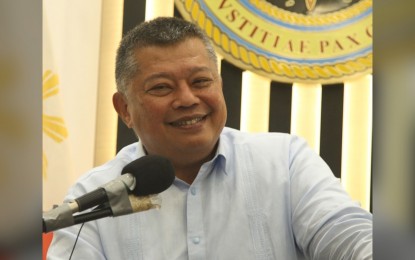 MANILA – Fugitive Negros Oriental Rep. Arnolfo Teves Jr. has been formally charged by the National Bureau of Investigation (NBI) before prosecutors for the killing of Gov. Roel Degamo last March.
NBI Director Medardo de Lemos personally attended the filing which also saw voluminous boxes of evidence submitted by the NBI to prosecutors to back the charges of murder, multiple frustrated murder, and multiple attempted murder against Teves.
Remulla clarified that they initially received information that Teves purchased a ticket for a Philippine bound flight Wednesday. Teves' camp, who has insisted that there are threats on his life, has denied that he had planned to return home.
"Ang alam kasi namin ticketed na siya (What we know was that he is ticketed), basta we have sources to tell us his movements. We will not release it if we do not have any reasonable ground to believe that something was going to happen, something may happen and that's part of it. We have our sources to tell us what the facts are," Remulla said.
Remulla also urged Teves to return to the country and face the charges. "Well, flight is an indication of guilt, by any language, by any jurisdiction, by any legal system," the DOJ chief added.
Remulla said the presence of Teves is required if he wants to formally refute the allegations that he masterminded the attack which resulted in the death of their family's political rival and nine others.
"Di naman pwede in absentia i-file yan (It could not be filed in absentia). He [Teves] has to personally appear to swear by the contents of his counter affidavit," the DOJ chief said adding that the same cannot be done by Teves online or before a Philippine embassy abroad.
"He cannot do that. He has to come home or they can file the case in court and the warrant will be issued in absentia," Remulla said. (PNA)