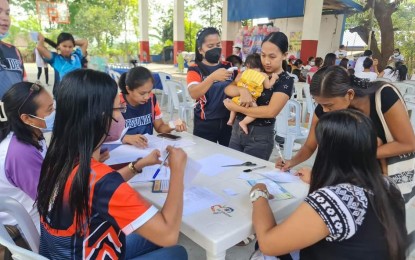 MALASIQUI, Pangasinan–The Department of Health Center for Health Development in the Ilocos Region (DOH-CHD-1) has administered measles-rubella and polio vaccines to some 377,778 children in the region as of May 17 or 61 percent of the targeted 607,365.
"We still have two more weeks to meet or even exceed our target and let us do our best to immunize all 0-59 months old. We will make sure that all eligible children will be given protection and nobody will be left behind so they would grow up safe against diseases and healthy," said DOH-CHD-1 director Paula Paz Sydiongco in a statement issued on Wednesday.
She attributed the accomplishment of the ongoing Measles-Rubella - Oral Polio Vaccine Supplemental Immunization Activity or the "Chikiting Ligtas 2023" that started May 1 to the continuing efforts of the local government units to seek out every eligible child in the communities.
Sydiongco said four municipalities in Ilocos Sur have already exceeded the 95 percent of the target set by the DOH to provide protection from vaccine-preventable diseases and avert any possible outbreak of measles cases in the country. These are Magsingal (113.01 percent), Santo Domingo (110,75 percent), Sa Ildefonso (96.52 percent) and Santa (95.23 percent).
Meanwhile, she urged all parents and guardians of children 0-59 months old to bring them to vaccination centers to prevent the risk of complications of vaccine-preventable diseases and the reemergence of outbreaks.
"We are also continuing with the house-to-house vaccination for those who cannot go to the health centers," she added.
The immunization program will end on May 31. (PNA)