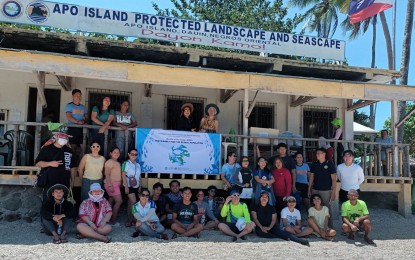 DUMAGUETE CITY – Residents of the world-renowned dive destination Apo Island in Dauin town, Negros Oriental province have enough fish to sustain their daily food requirements while boosting their income from fisheries and eco-tourism.
This developed as the country celebrates this May the Month of the Ocean with the theme, "Sustainably Feed the Global Population", said Jeanette Orcullo, public information officer of the Provincial Environment and Natural Resources Office (PENRO) in Negros Oriental, on Wednesday.
The PENRO, she said, spearheaded a multi-agency coastal clean-up and an information dissemination drive in Apo Island as part of its Month of the Ocean celebration.
"We reiterated to the community the interventions of the Department of Environment and Natural Resources (DENR) to sustain their livelihood and to also ensure their roles, responsibility, and participation in the protection of the island," she told the Philippine News Agency.
Edmar Detecio, resident biologist of Apo Island and a member of its Protected Area Management Board (PAMB), in a separate interview, said fisheries are doing well as residents enjoy more than enough fish catch for their daily sustenance.
Detecio even noted that in recent years, many islanders have shifted to eco-tourism as their primary source of income with fishing for livelihood already becoming an "alternative."
"Most of the island residents just go fishing for food although a number of them still fish for livelihood," he said partly in Cebuano, as there is a lucrative business in eco-tourism.
Detecio said the DENR-PAMB interventions for the Apo Island community include regular coral habitat monitoring, fish monitoring, and water quality assessment where the environment is concerned.
Locals are employed as fish wardens, protected area rangers, and utility staff and others, he added.
The DENR-PAMB also continues to provide eco-tourism training such as food handling, "to enhance their skills and opportunities for their livelihood which is relevant to continue the cycle of sustainability."
Eco-tourism livelihood sources include dive guides, snorkeling with the turtle guides, souvenirs, and food services, among others.
Participants in the Month of the Ocean celebration included the youth, residents, members of the Apo Island Women's Association, Apo Island Scuba Equipment Rental and Guiding Association (AISERGA), Apo Island Environmental Stewards Association, and various government agencies and offices from Negros Oriental. (PNA)