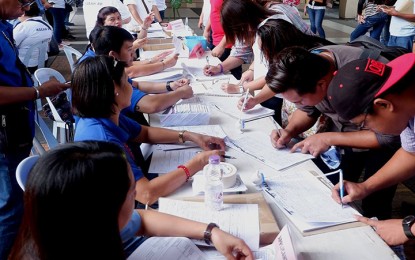 BOAC, Marinduque – A total of 340 graduating high school and college students in this capital town have just completed a Department of Labor and Employment (DOLE) seminar aimed at imparting practical know-how about the workplace environment.
In an interview on Wednesday, Naomi Lyn Abellana, DOLE 4-B (Mimaropa) director, said the Labor Education for Graduating Students (LEGS) program includes lectures on General Labor Standards (GLS) as well as how minimum wage is set under Philippine laws.
This week, DOLE, in collaboration with the municipal government's Public Information Service Office (PESO), brought the LEGS program to graduating students of Marinduque State College (MSC) and Marinduque National High School (MNHS).
"We seek to give students useful knowledge about their rights as well as their obligations as employees," Abellana said in Filipino.
The regional director explained that LEGS is also being taught to graduating high school students because it is assumed that not all of them will go on to college and instead, some will seek employment right away.
Participants in this week's day-long LEGS training program include 170 students, or half the total participants, from the MNHS graduating class.
The other half, all students of MSC, were graduating from courses ranging from engineering, information and computer sciences, fisheries and aquatic sciences, industrial technology, education, arts and social sciences, environmental studies, governance, allied health sciences, business and accountancy, and agriculture, the labor department reported.
Meanwhile, Abellana revealed that the latest iteration of the LEGS program goes beyond labor laws orientation, but also aims to give participants useful tips on how to become more employable.
The seminars, which are presided over by DOLE subject matter experts, include lectures on such topics as "power dressing" and "writing a persuasive resume."
"You can tell those who have undergone LEGS training, because even at DOLE's job fairs, you can see they are well-dressed and prepared to meet potential employers," said Abellana. (PNA)