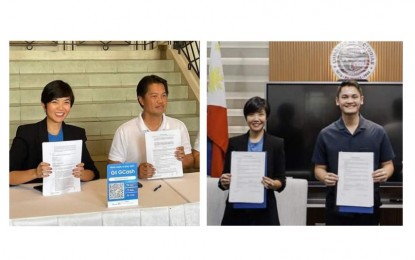 BACOLOD CITY – The cities of Bacolod and Victorias in Negros Occidental have partnered with mobile payment solutions firm G-Xchange, Inc. for the digital payment of taxes and government fees through the GCash platform.
Both cities are the first among the local government units (LGUs) in Western Visayas to collaborate with G-Xchange for the provision of bill payment services.
In this provincial capital, Mayor Alfredo Abelardo Benitez signed the memorandum of agreement (MOA) with GCash executives Cathlyn Pavia, head for Public Sector and Partnerships, and JR Marfori, LGU lead for the Visayas and Mindanao, in rites held at the Government Center main lobby on Wednesday afternoon.
"It is now efficient and easy to pay your taxes and government fees from your mobile phones via GCash," Benitez said.
During the launch, the mayor became the first to use GCash for the payment of his real property tax with the assistance of City Treasurer Arlene Memoria and GCash Western Visayas senior account manager Kim Marie Infante.
Aside from the payment of real property and business taxes, Bacolod residents can also use the GCash QR (Quick Response) payment method to pay for amusement taxes, marriage license fees, and market rentals.
GCash subscribers will receive instant text message notifications upon successful transactions.
"This collaboration signifies (the) Bacolod City government's commitment to embracing digitalization and leveraging technology to enhance government services," both parties said in a statement.
Earlier in Victorias City, Mayor Javier Miguel Benitez, son of the Bacolod mayor, also signed a similar agreement with Pavia and Marfori during a ceremony held at the Mayor's Office.
"This partnership means we are empowering our citizens for a digital cashless future. It also shows accountability and transparency, and provides convenience," the younger Benitez said.
He added that he wants Victoriahanons to experience the convenient and efficient services of GCash in paying for rentals of the Victorias Commercial Center, local taxes, and even fares to tricycle operators.
Pavia said she is optimistic about a "fruitful and beneficial partnership" with the LGU partners and their constituents.
"We really look forward to partnering in more programs with you," she added. (PNA)