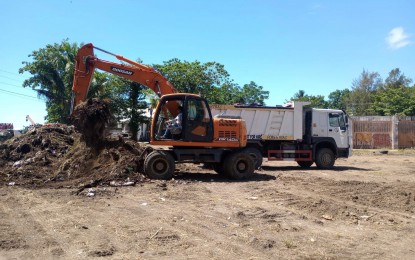 TACLOBAN CITY – The city government here will reopen a portion of the abandoned Leyte Park Hotel complex for fiesta activities, Mayor Alfred Romualdez said on Thursday.
While waiting for the master plan for the full development of the 6.1-hectare complex, Romualdez said the city government has been making improvements to allow some businesses to operate inside the complex in time for the June 30 city fiesta.
"Our plan is to make a part of the Leyte Park Hotel compound as one of the places to visit before and even a week after the fiesta," Romualdez told reporters in a press briefing at the city hall.
Personnel from the city engineering office have been deployed for the clearing operations, construction of the staircase, and painting of the concrete walling at Leyte Park Hotel.
It will be the location for fiesta activities and carnival in connection with the upcoming fiesta, according to the city government.
"We are preparing this area since we need a bigger and more spacious area for the civic activities intended for the people of Tacloban and visitors from other places," the mayor added.
The 6.1-hectare Leyte Park Hotel complex was built in 1979 through the initiative of the former First Lady Imelda Romualdez-Marcos.
It was taken over by the government in 1986 after the Edsa People Power Revolution and its ownership was transferred to the Tourism Infrastructure and Enterprise Zone Authority, the Privatization Management Office, and the provincial government of Leyte.
In 1994, the hotel was leased to a private company, but the company decided to build a new property in the city and shut down Leyte Park Resort Hotel in late 2021.
The drafting of the master plan by experts is still ongoing and it will be out within the year for investors to see, according to Romualdez.
The plan will designate hotel, resort, recreation, and commercial spaces.
Reopening the hotel would create at least 2,000 jobs and increase the number of hotel rooms in anticipation of the influx of tourists and even investors. (PNA)