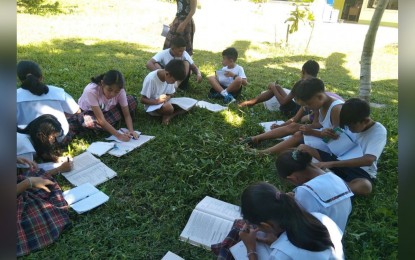 TACLOBAN CITY – At least 774 public elementary and secondary schools in Eastern Visayas have suspended face-to-face classes this week and shifted to different learning modalities due to extreme heat, the Department of Education (DepEd) reported.
These learning mode changes are affecting 115,262 Kindergarten and Grades 1 to 12 learners in six provinces and seven cities, according to the DepEd's report released on Thursday.
DepEd Eastern Visayas regional information officer Jasmin Calzita said in a phone interview Thursday school officials decided to call off face-to-face classes to prevent heat-related illnesses among teachers and learners.
Of the number, 387 schools are into distance learning, 267 campuses adopted modular distance learning, 108 schools shifted to blended learning, and 12 campuses have been implementing online distance learning.
"The distance learning utilizes mixed approaches like online learning and modules, but there's no face-to-face classes. The modular distance learning purely distributes modules to learners while the blended approach is a mix of face-to-face and distance learning modes," Calzita told the Philippine News Agency (PNA).
The DepEd asked schools to immediately report the suspension of classes due to extreme heat.
School heads are allowed to suspend in-person classes since they are more aware of the actual situation on their campuses.
The holding of online or other distance learning modes seeks to minimize the health and safety risks and uphold the physical and mental well-being of learners and school personnel, according to DepEd.
Earlier, the Philippine Atmospheric, Geophysical and Astronomical Services Administration (PAGASA) warned of even warmer days ahead.
The weather bureau states that heat indices between 41 and 54 degrees Celsius are considered "dangerous" as they can lead to heat cramps and heat exhaustion, and with continued activity, a heat stroke is likely to occur.
Tacloban, the regional capital recorded a 42 degrees Celsius heat index on May 17 while the highest was recorded in Catarman, Northern Samar at 46 degrees Celsius. (PNA)