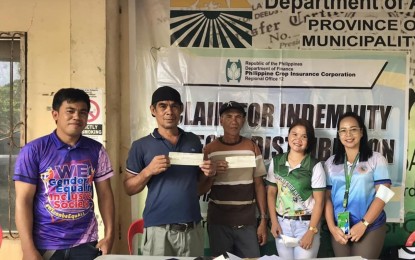 MANILA – A lawmaker announced on Thursday that a bill seeking to provide immediate financial assistance to agrarian reform beneficiaries (ARBs) affected by natural calamities was filed in the Senate.
Senator Christopher Lawrence Go said he filed the bill urging the government to improve the agricultural sector's resilience and reduce the impact of natural disasters on farmers and rural communities.
"Filipino farmers who feed the nation inevitably face adverse effects of circumstances that are beyond their control, such as natural calamities, the infestation of plant diseases and pests, or even death and injury while farming, which also leads to loss of money and resources," he said.
"The purpose of this bill is to provide assistance to agrarian reform beneficiaries in the event of natural calamities to make their losses more bearable, to help them recover from adverse effects, and to mitigate the effects of natural calamities by providing full crop insurance coverage to qualified agrarian reform beneficiaries."
Go's Senate Bill (SB) 2118 seeks to amend Republic Act 6657 or the Comprehensive Agrarian Reform Law of 1998 to provide full crop insurance coverage to ARBs, unburdening them from insurance premium payment, aiding them in times of calamities, and allowing them to immediately recover, thereby protecting food security in the country.
The proposed full insurance coverage shall be for compensable losses to all qualified ARBs who are actually tilling the land.
Compensable losses in the measure include natural calamities, plant diseases, pest infestations, and loss of life or injury.
Meanwhile, covered are palay, corn, sugarcane, high-value crops, crops or stocks in fish farms, livestock, and non-crop agricultural assets used in actual farming, and reported to and certified by the Department of Agrarian Reform (DAR).
The proposed measure shall also require the Department of Agriculture (DA) and the DAR to incorporate its implementation into their programs immediately with the initial funding be deducted from the General Appropriations Act's funds allotted for the Philippine Crop Insurance Corp. (PCIC) for the Registry System for Basic Sectors in Agriculture.
Go noted that while crop insurance is available through the PCIC, farmers often cannot afford the insurance premium required to be paid under the program.
With this, he also filed SB 2117, which seeks to expand the services of the PCIC and encourage the private sector to participate in agricultural insurance.
The PCIC shall also immediately cover all agricultural commodities and include other non-crop agricultural assets, such as livestock, aquaculture and fishery, agroforestry, and forest plantations.
Private sector organizations are also encouraged to assist farmers by offering reinsurance services for entities willing to offer agricultural insurance.
Go said from 2010 to 2019, the damage incurred from extreme natural events and disasters amounted to PHP463 billion, with agriculture posting the largest share with 62.7 percent or PHP290 billion, according to the Philippine Statistics Authority.
Citing the crucial role of farmers in ensuring food security, the senator has been consistently pushing for stronger agricultural support systems and infrastructure. (PNA)