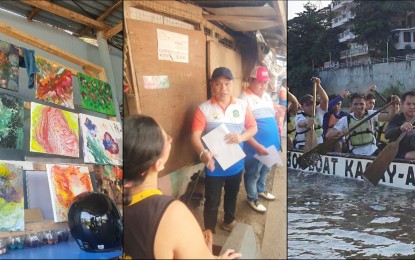 CAGAYAN DE ORO CITY – The team from Barangay Lapasan was preparing for a "toktok hangyo" or "tokhang," (knock and plead) at past 7 a.m. on Wednesday, the first operation to be conducted in the village this year.

The team, composed of police and Philippine Drug Enforcement Agency (PDEA) operatives, as well as representatives of the Department of the Interior and Local Government (DILG) and barangay officials, was led by Barangay Chairperson Julito Ogsimer.

Of the 557 people who used drugs (PWUDs) who were on the PDEA barangay "watch list," Ogsimer's team has to visit 26 who are residing in the village's eight sitios.

Less than an hour later, Ogsimer was greeted by the mother of one of the PWUDs outside their home, apologizing that her son had already left for work.

And true to the original essence of "tokhang," which is to knock on doors and make an appeal, the barangay chief pleaded to the mother to make her son spare some time to visit the barangay and be enlisted in the Community-Based Rehabilitation Program (CBRP).

The mother attempted to volunteer to join the CBRP on behalf of her working son, but Ogsimer said her son should be the one to personally attend for his name to be delisted.

In an interview, Ogsimer said he remains a big supporter of the CBRP and "tokhang" initiative, which is still implemented in his barangay, the second largest in the city in terms of population.

"Sometimes, some residents were afraid to cooperate in 'tokhang' because they were afraid of the police or PDEA agents. That is why I lead in talking them out, so they would also feel that their barangay officials are on top of their best interest," he said.

He said the PWUDs and their families often do not share information with the law enforcers but they would open up to him and other barangay officials.

"They would say that they have long stopped taking any illegal drugs, but I told them that it is still important to cooperate (and join CBRP) so that their names will be cleared, and we are always ready to help them," Ogsimer said.
CBRP sessions

The CBRP was established in 2017 as a response to former president Rodrigo Duterte's anti-drug policy, which aimed to curb the illegal drug trade and help rehabilitate PWUDs.

Under this program, barangays were tasked to establish programs on drug prevention and rehabilitation, which PWUDs need to attend within three to four months, with the respective local government units (LGUs) overseeing their progress.

In Misamis Oriental, this was one of the tasks of Jasmin Casiño, the head nurse at Gingoog City's Health Office, which has all the records in the city's 79 barangays.

"As of April 2023, we have already six barangays declared as drug-free, while 33 barangays were drug-cleared," she said.

Under Dangerous Drugs Board regulation, a drug-cleared barangay refers to an area that is previously classified as drug-affected and underwent the Barangay Drug Clearing Program and was later declared as drug-cleared by the Regional Oversight Committee on Barangay Drug Clearing (ROCBDC).

Meanwhile, a drug-free barangay refers to an unaffected community that has been vetted and confirmed by the ROCBDC.

Orlando Ordinan and Lemuel Enterina, chairpersons of Barangays Magkarila and Calamcam, respectively, in Talisayan town, Misamis Oriental, recalled their preparations to pass the ROCBDC.

"You need to have all the papers ready, and you should be able to answer their questions, and even the LGUs should know what they were doing to the barangays," Enterina said.

To be declared drug-free or drug-cleared, one measure of the success of their anti-drug efforts was the number of PWUDs who underwent the CBRP and the kind of programs they implemented.

Casiño said the Gingoog City government introduced the World Health Organization's Alcohol, Smoking, and Substance Involvement Screening Test (WHO-Assist) and Screening, Brief Intervention, and Referral to Treatment (SBIRT) to help with CBRP initiatives.

WHO-Assist is a set of questionnaires that measures an individual's use of alcohol, tobacco products, and other drugs across their lifetime and the past three months.

The SBIRT encourages mental health and substance use screenings as a routine preventive service.

Aftercare

When PWUDs "graduate" from the CBRP, it is not yet the end of their journey to recovery.

This is why barangays were also given the autonomy to create program plans on aftercare since their officials were also given the mandate to monitor the PWUDs, even after the CBRP.

In Barangay Carmen, this city's most populous barangay, its CBRP program introduced the dragon boat sport. Since its launch in 2022, the sport's organizers have invited several former PWUDs who excelled and even won several competitions.

One of them was Elven Balibagon, 39, who said if not for CBRP, he would not have realized he could engage in sports.

"I never had a sport before, not even basketball, I was exposed to using drugs since I was 19, and this time with CBRP, it helped me in my continuing recovery," he said.

Carmen Arsenal, 43, another graduate of Barangay Carmen's CBRP said the barangay offered them not only the dragon boat sport as an aftercare initiative but also technical and skills learning.

Arsenal, who later became the CBRP manager, said more work needs to be done to reach out to other PWUDs, especially those who are still afraid to come out.

"This is why we continue with our work on reaching out and having meaningful conversations with them. It is not easy, but we can always find ways," she said.

For the PWUDs and LGU workers down to the barangay level, the programs and activities on drug prevention and rehabilitation may add more color in the years to come, especially after the DILG has launched the "Buhay ay Ingatan, Droga ay Ayawan" initiative. (PNA) [To be continued]

[Editor's note: This story was produced with the help of a grant from the Drug Policy Reform Initiative.]