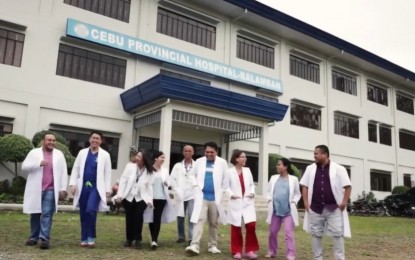 CEBU CITY – Three provincial government-run hospitals here have been cited as "Hall of Famers" for consistently showcasing significant improvement in serving the Cebuano people.
Dr. Mary Jean Loreche, head of the Cebu provincial hospital monitoring program's evaluation team, said on Thursday that the three hospitals – the Carcar City Provincial Hospital, Balamban Provincial Hospital, and Ricardo L. Maningo Memorial Hospital in San Francisco, Camotes Island – bested 13 other hospitals run by the provincial capitol.
The three hospitals have been able to maintain their perfect rating of 5.0 in their significant improvements, Loreche said.
The evaluation team, she said, has assessed four provincial hospitals and 12 district hospitals based on management and leadership, client satisfaction, processes and systems, infrastructure, and economic enterprise, among others.
"Governor Gwen (Gwendolyn) Garcia's hospital monitoring initiative proved to be a success, with the notable vast improvements in the second round of the evaluation," she said.
Garcia's initiative came after they noted some negative comments against provincial and district hospitals, such as cracked floors, unorganized emergency rooms, and subpar meals.
Dr. Olivia Dandan, head of the Balamban Hospital, said their excellent ranking has allowed them to apply for accreditation as a Level 2 health facility.
As a Level 1 hospital, Balamban can provide emergency care and treatment, general administrative and ancillary services, primary care of prevalent diseases in the locality, and clinical services, such as general medicine, pediatrics, obstetrics and non-surgical gynecology, and minor surgery.
Once it becomes a Level 2 hospital, it will have additional facilities, such as an intensive care unit for critically ill patients and specialist doctors for gynecology and pediatric services.
"The province of Cebu has one of the best health care systems in place," Loreche said, citing their impressive improvements throughout the monitoring and evaluation program. (PNA)