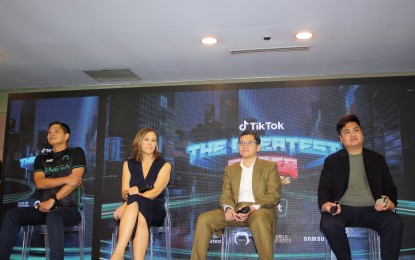 MANILA – TikTok is bringing to the country a gaming contest with a unique reality show concept called "The Greatest Gamer Philippines."
Ten players will be chosen to stay in a villa for three weeks and compete in various real-world and gaming challenges, showcasing what it takes to be a professional gamer.
Aside from PHP250,000 in cash, the winner of the contest held in partnership with Smart, Smart Omega, and Mobile Legends: Bang Bang (MLBB), Grab and Samsung, will receive a contract with Smart Omega for a chance to be included in the MLBB roster.
To join the contest, gamers must follow @thegreatestgamer and @smartcommunications on TikTok and create audition video content by introducing themselves and showcasing their MLBB skills, using the official audition filter and hashtag #TheGreatestGamerPH, and tagging the official @thegreatestgamer and @smartcommunications TikTok accounts.
Audition videos must be submitted from May 24 to June 14.
According to a recent report conducted by Meltwater (2023 Global Digital Report), more than 95 percent of internet users in the Philippines are avid gamers, confirming that the Filipino community has a strong and vibrant gaming culture.
"We are thrilled to bring The Greatest Gamer to the Philippines, where there is a thriving and welcoming gaming community that aspires to grow and excel as skillful gamers," said Vanessa Brown, TikTok Asia-Pacific business development director, during the media briefing held at the SM Megamall Trade Hall in Mandaluyong City on Wednesday.
She said the Greatest Gamer Philippines showcases the journey to becoming a professional gamer as well as engaging the gaming community by providing relevant entertainment, highlighting the skills, passion, and dedication that is necessary to excel in Esports.
"We also hope to empower the local gaming community, nurture its growth, and provide a space for enthusiasts to continue displaying their skills and creativity," she said.
"Filipinos have always been enthusiastic about gaming, whether online or offline, and we are excited to witness their talents and passions in The Greatest Gamer Philippines auditions. TikTok's gaming community rallies behind one another to cheer on key wins, support after disappointing losses, and shares tips to help each level up in their favorite games. It would be very interesting, entertaining and educational to see how Pinoy gamers strategize to be the next professional gamer," she added.
Numerous activities are lined up during the campaign, providing an immersive and engaging experience as the selected contestants will take part in fun livestreams of mini games, weekly tournament gameplays and other online and offline challenges in the course of learning what it takes to be a professional gamer.
TikTok will provide a window into the gaming lifestyle by revealing contestants; interactions with Creators, weekly interviews, content on their backstories, and various program highlights, enabling TikTok users and Esports fans to see firsthand what these rising talents will go through to achieve their dreams.
"Smart has been a leading patron of Philippine Esports because we've always believed that Filipinos have the passion, talent, and skill to dominate in this field. As the official telco provider of TikTok's The Greatest Gamer Philippines, we aim to elevate the players' gameplay experience with our fastest and best mobile network. We believe that this would also translate to an enjoyable viewing experience for all Esports fans," said Lloyd Manaloto, first vice president and head of prepaid and content of Smart Communications.
Smart Prepaid and TNT subscribers can join in on the action and tune into the journey of The Greatest Gamer Philippines aspirants on TikTok by registering to Power All and Saya. All offers, which come with daily access to TikTok. More information on contest are available at https://www.tiktok.com/@thegreatestgamer.
TikTok's The Greatest Games was first held in Indonesia in 2021. (PNA)
-------------