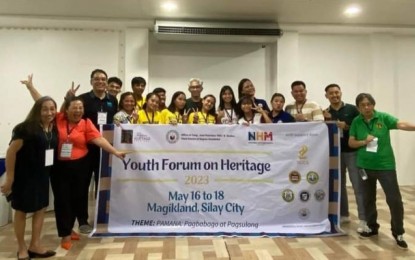 BACOLOD CITY – Young people in Negros Occidental have been urged to preserve and protect their local heritage during the three-day Youth Forum on Heritage held at The Magikland in Silay City until Thursday in line with the observance of the National Heritage Month this May.
The gathering was attended by about 60 participants, aged 17 years to 23 years, from the province's 3rd District, including the cities of Silay, Talisay, and Victorias, and the municipalities of EB Magalona and Murcia, as well as the provincial capital, Bacolod.
Third District Rep. Jose Francisco Benitez, whose office initiated the forum, together with the Filipino Heritage Festival, Inc. (FHFI) and the National Commission for Culture and the Arts (NCCA), underscored the need to cultivate the value of cultural appreciation and preservation, as well as the vital role of every citizen in protecting and promoting cultural heritage.
"In the hands of the youth lies the power to breathe new life into our cultural legacy, to infuse it with their own unique perspectives, and to pass it on to the future generations, richer and more vibrant than ever before," he added.
Benitez said the youth forum project of FHFI and NCCA is "a great endeavor towards fostering intergenerational connections and preserving cultural legacies."
The participants attended lectures, fieldwork, and workshop that aimed to heighten awareness and understanding and strengthen efforts toward the preservation and protection of local cultural heritage.
In his message during the forum, Benitez said the province's 3rd District has much to be thankful for in terms of its heritage.
He cited the Ishiwata Bath House in Murcia, The Ruins in Talisay, the heritage houses of Silay, the Battle of Gintabuan Monument in EB Magalona, and the St. Joseph the Worker Chapel in Victorias.
Such tangible heritage is coupled with the district's intangible heritage in poetic, culinary, visual, musical, and performing arts, he added.
"Our heritage is a testament to our collective identity and a source of pride for our people. Cultural heritage is the soul of our nation and the manifestation of our national and communal identity. Its continued conservation and promotion is therefore of paramount importance," the lawmaker said.
He noted that Republic Act 10066 or the "National Cultural Heritage Act of 2009" requires all local government units (LGUs) to maintain an inventory of significant cultural properties to be recorded in the Philippine Registry of Cultural Property.
Benitez also said he filed House of Representatives Bill 2129 to institutionalize cultural mapping in LGUs to serve as a vital tool in property documenting tangible and intangible cultural heritage, including indigenous knowledge systems and practices in agriculture, medicine, and environmental protection.

This year's National Heritage Month carries the theme "Heritage: Change and Continuity." (PNA)