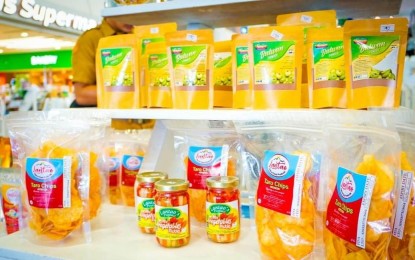 SAN JOSE DE BUENAVISTA, Antique – Farmers in Antique are encouraged to produce more vegetables and other agricultural products following their successful trade fair with over half a million pesos in sales.
Antique Office of the Provincial Agriculture (OPA) agri-business coordinator Betty Baldevia said in an interview Thursday that the success of the trade fair they conducted in partnership with the Department of Trade and Industry (DTI) and Robinsons Place Antique from May 11 to 16 served as inspiration for farmers and micro, small and medium entrepreneurs (MSMEs) to produce more.
"During the trade fair, the 26 exhibitors who are farmers and MSMEs were able to make a whooping PHP600,000 plus sales," Baldevia said.
She said the amount consisting of PHP463,000 in actual and PHP259,000 in booked sales is just partial since they are still waiting for other exhibitors to submit their reports.
"The fresh vegetables like lettuce, squash, string beans, and others were easily sold," Baldevia added.
Aside from fresh vegetables the exhibit also showcased processed agri-products like camote and taro chips, and Virgin Coconut Oil (VCO).
There were also native bags, containers, and placemats made of buri and bamboo.
"Muscovado sugar packed in sachets was also sold," Baldevia said, adding that muscovado in sachets could be served in the hotels.
Farmers and MSMEs are requesting the conduct of the trade fair every quarter, she said.
A similar activity conducted before the pandemic generated around PHP500,000 for participating local producers.
Nancy Montecastro, in charge of the high-value crops and vegetables production under the OPA, said in a separate interview that the Department of Agriculture Regional Office 6 provided seeds, seedlings, and fertilizers to farmers so that they could produce more.
"DA also provides allocation for the planting materials of farmers through the local government units," she said.
DTI Antique provincial director Lynna Joy Cardinal said that they had assisted the MSMEs in their production and product development, including improvement in their labelling and packaging.
"The DTI has assisted the MSMEs in the different aspects of their businesses," she added. (PNA)