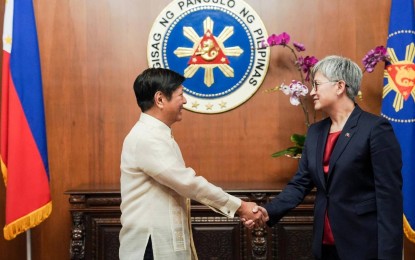 MANILA – President Ferdinand R. Marcos Jr. on Thursday expressed hope that Australian Foreign Minister Penny Wong's four-day official visit to Manila would further enhance the partnerships between Australia and the Philippines in terms of trade, security and defense.
During the Australian official's courtesy call in Malacañang, Marcos said the two countries should continue the efforts to sustain relationships, partnerships, alliances in response to the rapidly changing geopolitical situation.
"And therefore, we have to stay in very close communication so that we present a common plan to meet not only with ASEAN but all member states around the Indo-Pacific," Marcos told Wong.
Marcos stressed the importance of building partnerships to maintain peace not only in the Asia Pacific but the Indo-Pacific region.
He expressed readiness to work closely with Australia and other regional partners to respond to the current geopolitical situation.
"And that I think is probably the key element in many of the relationships that we have not only between Australia and the Philippines but also of the countries around the Indo-Pacific region," he said.
Marcos also underscored the need to ensure economic security cooperation with Australia particularly as the Philippines undergoes transformation.
"The very important partner in the transformation of our economy is the private sector. And therefore, we welcome any contact with the private sector because we feel that it is impossible for the government to do it all alone," Marcos said.
He highlighted that the government has reformed several laws and regulations to encourage private partnerships with the government, joint venture partnerships with corporations, and "every other possible combination of those elements."
Following his bilateral with Australian Prime Minister Anthony Albanese during the Asia Pacific Economic Cooperation (APEC) meeting last year, Marcos said he expects to have another opportunity to meet him in September.
Wong, for her part, conveyed Albanese's message to the Philippine leader, highlighting the need to further strengthen the two countries' strategic partnership.
"We want to work with you for our mutual benefit recognizing the importance of economic strength," Wong told the President.
The President also expressed gratitude to Australia for hosting Filipinos.
"We are very appreciative of the hospitality and kindness that you have shown our nationals," Marcos said. (PNA)