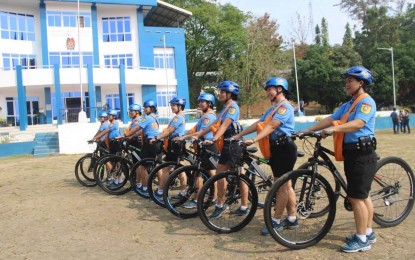 MANILA – The Philippine National Police (PNP) on Friday welcomed the results of the recent Tugon ng Masa Survey by OCTA Research, saying it will further motivate and inspire them to give their best to serve and protect.
The March 24 to 28 OCTA survey results released Thursday showed the PNP enjoys the trust of 80 percent of Filipinos, despite the recent issues on the alleged involvement of some police scalawags, including high-ranking officials, in the illegal drug trade.
"The PNP welcomes the result of this survey. This is a clear manifestation of the trust and confidence of the majority of the Filipinos to their police. This will serve as a motivation and inspiration of the PNP to give its best in protecting and serving the Filipino people," PNP Public Information Office chief Brig. Gen. Redrico Maranan said in a statement.
He said the PNP is grateful for the continued trust and satisfaction expressed by most Filipinos, and values the feedback provided by the survey as it serves as a reminder of the institution's responsibility to uphold the highest standards of professionalism and integrity.
"We remain steadfast in our commitment to improving our performance and working towards a safer and more secure Philippines. We assure the public that we will take their feedback into account as we continue to serve the nation.," he added.
The OCTA survey showed that 80 percent of 1,200 adult respondents said they either "strongly trust" (21 percent) or "somewhat trust" (59 percent) the country's police force.
In terms of the PNP's performance, 73 percent of Filipinos said they were satisfied, 6 percent were dissatisfied, and 15 percent expressed uncertainty.
Meanwhile, 41 percent of those polled indicated they have seen an improvement in the PNP's implementation of peace and order, 9 percent said it has worsened, while 48 percent said they saw no change.
At least 41 percent of the respondents also thought that the police's handling of crime improved, 8 percent said otherwise, while 46 percent said they have not noticed any change.
Meanwhile, retired PNP chief Gen. Rodolfo Azurin, in a message sent to PNA, urged the 228,000-strong police force to be motivated and further improve its services and transformations for the country. (PNA)