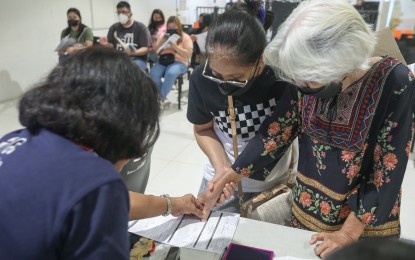 MANILA – Close to 120,000 registered voters found having double or multiple registrations may face election offense cases, the Commission on Elections (Comelec) said Friday.

According to Comelec spokesman John Rex Laudiangco, data showed the Automated Fingerprint Identification System (AFIS) has detected 118,178 voters with more than one registration.
"These are clear instances of a registered voter applying for a new registration, be it through the same or different name, or the same or different address, or the same or different picture. What is clear is that the fingerprints belong to one and the same person/s," he said in a statement.
"These, therefore, require, not only a deletion of the application for new registration, but more so an investigation, whether or not the new application is intentional and coupled with a clear design to become double or multiple registrants," Laudiangco said.
He said they will be charged with violating the Voter's Registration Act of 1996 should probable cause be determined.
"A criminal information will be filed at the Regional Trial Court having jurisdiction over the city or municipality, where the offense was committed," he said.
The multiple registrants are part of the 491,017 double/multiple registrants detected by the AFIS in its ongoing evaluation of the list of voters, as of the January 2023 voter registration period.
The data include 233,282 voters already registered and have subsequently applied for transfer but did not have their original records deleted.
A total of 119,652 registered voters already transferred, applied for another transfer but the first one wasn't deleted.
On the other hand, 19,905 applicants have existing records in another locality and intended to transfer but submitted and applied for a new registration.
The AFIS is a system that the Comelec uses to cross-match the biometrics data registrations of voters in a bid to eliminate double and multiple registrants. (PNA)