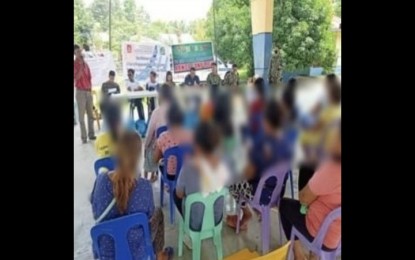 CITY OF SAN FERNANDO, Pampanga – At least 23 members of left-leaning organizations in Nueva Ecija have cut off ties with the Communist Party of the Philippines - New People's Army (CPP-NPA) to support the continuing peace and development efforts of the government.
Col. Richard V. Caballero, director of the Nueva Ecija Police, said in a statement on Friday that the 23 CPP-NPA supporters, composed of three members of the Alyansa ng Mamamayang Nagkakaisa (ALMANA) and 20 members of the Liga ng Manggagawang Bukid (LMB) and Alyansang Magbubukid sa Gitnang Luzon (AMGL) under the Kilusan ng Magbubukid ng Pilipinas (KMP), have withdrawn their support from the communist organization.
Caballero said joint police and military forces facilitated the special intelligence operation that resulted in the withdrawal of support of the 23 CPP-NPA supporters in Gabaldon and Guimba, both in Nueva Ecija on Thursday.
He said the government's relentless anti-insurgency campaign had resulted in the voluntary withdrawal of support from the rebel group and pledge of allegiance to the national government.
Caballero said it was the product of the continuous joint efforts of the Provincial Task Force to End Local Communist Armed Conflict.
The 23 former CPP-NPA sympathizers have taken and signed their oath of allegiance to the government and will undergo documentation for proper disposition, he said.
Meanwhile, Caballero encouraged those who are still active supporters or members of the communist group to lay down their arms, return to the government side, and reunite with their families.
"We will never get tired of doing the best that we can to end terrorism," he added. (PNA)