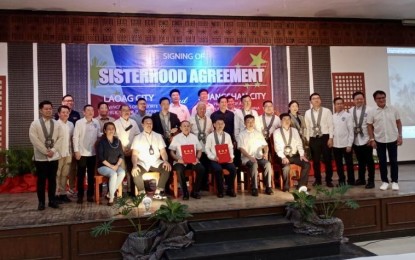 LAOAG CITY – Laoag City and the Huangshan Municipal People's Government of China are pushing for deeper cooperation with regular exchange and communication.
On Friday, at least six representatives from Huangshan City led by Secretary General Yang Long signed a memorandum of understanding with officials of the Laoag city government led by Mayor Michael Keon to establish sisterhood ties and business relations.
Following the signing of the MOU held at the Laoag City Hall covered court, Keon told reporters he was set to visit Huangshan from June 6 to 9, 2023 to signify the city government's commitment to promoting exchanges and cooperation related to tourism, world heritage protection, cultural exchange, and many others.
"I look forward to a significant collaboration with Huangshan that is why we will visit them to start up a friendly discussion to benefit both cities," he said.
During the signing, both parties agreed to maintain close coordination on possible key projects.
On economic relations, both parties expressed commitment to encourage enterprises to conduct business exchanges, organize events on trade and investment, and provide access to their respective trade and commercial zones.
The twin local government units also agreed to create their economic committee to review and recommend facilitating projects to boost economic development.
Both parties are also interested in promoting tourism and major cultural events for cultural exchange programs.
Huangshan in Anhui province, on the east coast of China, is known for its famous yellow mountain with massive gigantic boulders and ancient pine trees as heritage attractions. (PNA)