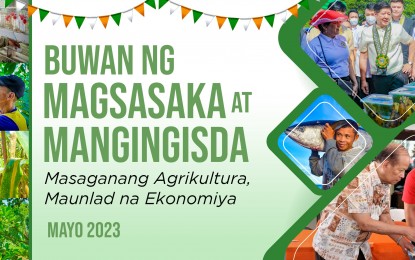 LEGAZPI CITY – The Department of Agriculture in Bicol (DA-5) distributed farm inputs worth PHP135 million to rice, high-value crops and poultry farmers from Albay and Camarines Sur this week.
The mass distribution of agricultural inputs was funded under the Quick Response Fund (QRF) and regular fund of the Rice Program, High-Value Crops Development Program (HVCDP) and Livestock and Poultry Program of the DA.
The distribution likewise coincided with the Farmers and Fisherfolk's Month celebration this May, according to Lovella Guarin, DA-5 information officer, in an interview on Friday.
"The intervention given to the farmers was DA-Bicol's way of honoring the importance of farmers and fisherfolk to the country's food security," she said.
Guarin said they will give more intervention and support to the farmers in the coming months to help them increase their yield and income.
"DA-Bicol will provide fertilizer support for the farmers for the wet season cropping (until Sept. 15). By June we will start to distribute fertilizer support through a fertilizer discount voucher," she said.
Under the DA-Bicol Rice Program, distributed were 10,213 bags of hybrid palay seeds, 3,040 bags of zinc sulfate, 42,264 liters of foliar fertilizer, 42,414 packs of plant growth enhancer, 21,332 packs of plant growth enhancer, 6,075 pieces of laminated sacks and 25 units of knapsack sprayer.
Given under HVCDP were four units of pump irrigation system to the CLLS Federation of High-Value Crops Inc. in Libmanan, Federation of Integrated Farmers of Tinambac, Pilinio Federation of High-Value Crops Growers Inc. in Pili and Itulan Farmers Association in Pasacao, all in Camarines Sur.
Meanwhile, distributed under the Livestock and Poultry Program were 570 heads of free-range chicken in Albay and Camarines Sur.
"The PHP133.53 million worth of interventions benefitted five farmer associations and 37 local government units from the five districts of Camarines Sur," Guarin added, noting that the amount excludes the cost of the poultry inputs. (PNA)