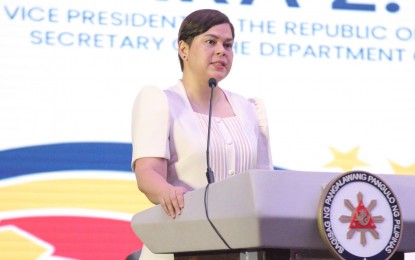 MANILA – Vice President and Education Secretary Sara Duterte on Friday underscored the significance of language and inclusive education to end the so-called culture of "othering" or the pattern of exclusion and marginalization, considering differences in identities from the dominant group.
In a speech during the opening of the Language and Inclusion Summit 2023 at the Manila Marriot Hotel in Pasay City, Duterte said basic education reforms would only be "meaningful and effective" if inclusivity shall be its center.
"Language and inclusion are closely intertwined. Using a language that a learner can speak or understand promotes a sense of belonging and pride in the latter's culture, which we believe is critical in ensuring learning motivation and promoting engagement," she said.
The education chief particularly cited the avoidance of disregard and discrimination against indigenous peoples (IPs), Muslim communities, and learners with disabilities.
"An inclusive education system recognizes and values the diversity of learners, backgrounds, experiences, perspectives, and languages. Our learners are given access to education in their first language, which they can easily understand. By the way, when I speak of languages, I also refer to the Filipino sign language," she added.
The Vice President shared an experience during her initial year in law school, where a cultural disparity was somehow felt.
She recalled coming from Davao and joining her friends in class, along with other students who came from other provinces.
"We did not feel that we were excluded but somehow that is the culture inside classrooms and schools. Laging (it's always) because you are from the province or galing ka ng (you are coming from) Mindanao, kayo-kayo lang 'yung magkakasama at magkakaibigan (you will be the only ones getting along or being friends)," she said.
"I think it's the culture, it's not anyone's fault. But I think we need to do something about it so that our future generation will understand the importance of respect and inclusion."
Inclusive, equitable
Duterte assured that the Department of Education (DepEd) remains committed to fostering equitable access to quality and inclusive education.
"We shall end this culture of 'othering' that is injurious to people outside our social status, or those who belong to minority or disadvantaged sectors… We reaffirm our commitment to the Sustainable Development Goals (SDGs), the UNESCO convention against discrimination in education, and the Education 2030 framework for action, which emphasizes inclusion and equity as the foundation for quality education," she said.
The DepEd has issued and implemented various Department Orders since 2018, which helped improve the service, facilities, and assessment tools for learners with disabilities.
Since then, 32 Special Education (SPED) centers were converted to inclusive learning resource centers (ILRCs).
"DepEd aims to convert more ILRCs and make them functional to provide appropriate intervention to all learners. To operationalize the ILRCs, we need a multidisciplinary team to manage and provide appropriate services to learners with disabilities," Duterte said.
For the Alternative Learning System (ALS), 695,894 learners "have been enrolled in the basic literacy program and accreditation and equivalency in elementary and Junior High School level."
Recorded enrollees for ALS Senior High School were also logged at 24,524 in various tracks in public schools.
Enrollment in Indigenous People Education (IPEd) continues to expand as the program is being implemented in 16 regions.
Duterte noted that more than 75 IP languages are being used as the medium of instruction for about 121 IPEd divisions.
Likewise, the integration of programs for Muslim learners is also being worked on.
"In the case of our Madrasah education program, we prioritize the integration of Arabic Language Islamic Values Education or the ALIVE program… Through the study of Arabic, learners develop their language and literacy skills in gaining a deeper understanding of the Islamic faith and its teaching," she said.
Duterte pledged that although the country still has a long way to go, the DepEd would continue to press on for an inclusive and quality education for all Filipino learners. (PNA)