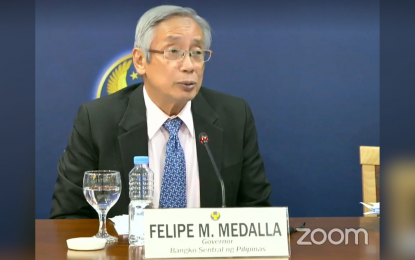 MANILA – Bangko Sentral ng Pilipinas (BSP) Governor Felipe Medalla said the need to reduce bank's reserve requirement aims to address possible rate tightening effects once the period of the relief measure that was given to banks ends.
He is referring to the measure implemented during the pandemic that allowed banks' lending to small and medium enterprises (SMEs) as reserve requirement compliance, which will expire on end-June this year.
During an interview over Bloomberg TV on Friday, Medalla said the central bank has the capacity to manage domestic liquidity through its various facilities such as the term deposit facility (TDF) and the 28-day BSP bill.
These facilities are part of the central bank's tools targeted to manage domestic liquidity by siphoning off excess liquidity in the market, a move aimed at addressing, among others, possible risks on the foreign exchange.
Medalla, however, noted that "if we allow that (relief measure) to expire, that really means tightening, reduction of money supply."
"So what we plan to do is match that with a cut in reserves so that more or less (it will have) neutral effects on money supply growth," he said.
The last time banks' reserve requirement ratio (RRR) was adjusted was in 2022 when it was cut by as much as 200 basis points, for the universal and commercial banks (U/KBs) to 12 percent.
This was made to allow banks to have adequate liquidity for lending, which was needed by the domestic economy then to ensure that economic activities will remain robust despite the pandemic.
Medalla said the central bank's capacity to manage domestic liquidity was enhanced after it was allowed to issue its own debt papers -- the 28-day securities, and through the TDF.
"And that's why we're confident that we're able to manage the money supply regardless of what happens," he added. (PNA)