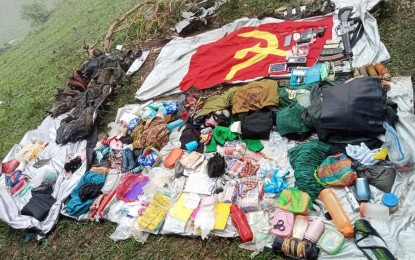 BACOLOD CITY – Five fighters of the New People's Army (NPA) died in a series of clashes with troops of the Philippine Army's 62nd Infantry Battalion (62IB) in the hinterlands of Moises Padilla, Negros Occidental Saturday morning.
The bodies of the unidentified rebels, belonging to the NPA's Central Negros Front 1, are being retrieved by soldiers, police, and disaster response personnel for turnover to the Moises Padilla Municipal Police Station, the 62IB said in a report.
Brig. Gen. Orlando Edralin, commander of the 303rd Infantry Brigade, said in a radio interview the troops engaged about 15 communist rebels during the initial 10-minute encounter in Sitio Napiluan.
As the enemy withdrew after the first firefight at 5:05 a.m., the soldiers again clashed with six rebels in Sitio Oway-Oway at 5:40 a.m.
At past 7 a.m., the blocking team of 62IB also engaged five withdrawing rebels in a five-minute firefight.
According to the 62IB, led by commander Lt. Col. William Pesase Jr., the troops launched combat operations after receiving information on the planned atrocities of the NPA in neighboring Moises Padilla and La Castellana towns.
During the clearing operation, the soldiers recovered several firearms, including an M16 rifle, Uzi machine pistol, KG9 machine pistol, two caliber .38 pistols, two homemade 12-gauge shotguns, and ammunition of assorted firearms.
Also found were two units of hand-held radio, a keypad mobile phone, 15 backpacks, a bandolier, an NPA Flag, medical paraphernalia, food supplies, war documents, and personal items.
The latest skirmishes came after the encounter in Sitio Lower Tiyos, Barangay Quintin Remo on April 18 that claimed the life of Jose "Jojo" Albores, one of the leaders of the "kangaroo court" under the Central Negros Front 1 of the Leonardo Panaligan Command.
Albores' group was tasked to kill members tagged as government assets and civilians who refuse to support the armed struggle. (PNA)