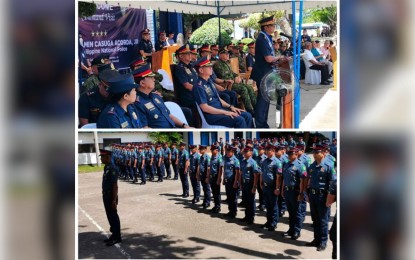 DUMAGUETE CITY – The planned mass relief of all Philippine National Police (PNP) personnel in Negros Oriental as part of "cleansing the ranks" following the assassination of Gov. Roel Degamo, has been put on hold, a key official said on Saturday.
Brig. Gen. Anthony Aberin, Police Regional Office-Central Visayas (PRO-7) director, made the announcement during a multi-sectoral stakeholders' engagement at the Negros Oriental Police Provincial Office (NOPPO) as part of the command visit of PNP chief Gen. Benjamin Acorda Jr.
"The massive replacement of NOPPO police officers is currently on hold," Aberin said.
Should there be changes or movement, he said this will be on a need basis only unless a police officer is recommended for relief by the provincial director or the mayor.

The plan was to dispel doubts on the integrity of Negros Oriental police officers after an investigation showed that some of them had alleged links to politicians implicated in the March 4 Degamo murder.
They were to be replaced by officers from nearby provinces but the implementation was stalled due to the lack of personnel to be reassigned, according to Aberin.
Further, local chief executives and governors from nearby provinces reacted to the move, noting that this would displace police personnel who are also their constituents, he added.
He assured consultations would be conducted first prior to the relief of any police personnel from Negros Oriental.
Shortly after the attack at Degamo's residence in Pamplona town, where the governor and nine others were killed and 16 others were wounded, Aberin confirmed an order from the PNP headquarters that all police personnel in Negros Oriental will face relief and reassignment.
Aberin said he has tasked the R2 (Regional Intelligence Division) to assess police officers assigned to different stations in the province as to who should be removed to dispel the perception that they are compromising the integrity of the PNP.
All personnel from police stations in Bayawan City, Sta. Catalina, and Valencia were relieved shortly after the massacre and sent for retraining.
Meanwhile, the Bacong police force is planning to relieve most of its personnel following the Senate inquiry into the killings in Negros Oriental.
The PRO-7 director said the massive relief may be reconsidered once they have talk to "responsible members of the community and leaders" to get their opinions.
The Senate hearings showed an "enormous distrust" in police personnel assigned, he said, although he insisted that most of them are not involved in illegal activities. (PNA)