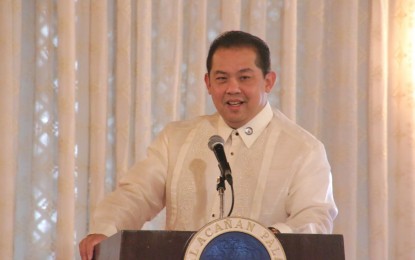 MANILA – The "House of the People" is in order and occasional moves to destabilize it will be nipped in the bud.
Thus assured Speaker Martin Romualdez in a statement on Sunday amid talks of leadership squabbles the past week, saying there is no better proof of harmony in the Lower House than the approval on final reading of at least 29 of the 42 bills that comprise the legislative agenda of President Ferdinand R. Marcos, Jr.
"These include measures condoning the debts of our agrarian reform beneficiaries, creation of specialty centers in the provinces similar to the Lung and Heart Centers in Metro Manila, and the Magna Carta bills that seek to protect the rights and promote the welfare of our Barangay Health Workers and Seafarers," Romualdez stated.
Romualdez said the House cannot be distracted from finding legislative solutions to issues that affect the lives of ordinary Filipinos.
"Rather than engaging in politicking, I would rather that we, in the House of Representatives, remain focused on more urgent matters," he said.
"The UniTeam, which the House leadership has always been a part of, must continue to focus on finding immediate solutions to problems of ordinary Filipinos. The House chooses to focus on addressing low power supply, high electricity rates, telco issues and unstable commodity prices, instead of political destabilization," he added, referring to the alliance under which President Marcos and Vice President Sara Duterte ran in the 2022 polls.
The condonation of agrarian reform beneficiaries' (ARBs) outstanding debts was approved in December 2022, with all 245 lawmakers in attendance voting in favor of House Bill No. 6336 or the New Agrarian Emancipation bill.
The proposed Magna Carta for Barangay Health Workers was likewise unanimously approved in December, a measure that will grant incentives and benefits that include hazard allowance, transportation allowance, subsistence allowance, one-time retirement cash incentive, health benefits, insurance coverage and benefits, vacation and maternity leaves, and cash gifts.
On May 8, House Bill 7751 or the proposed Department of Health Specialty Centers Act, authored by Romualdez, was passed with the aim to make "specialized health care accessible to our people in the provinces, especially the poor."
NHA charter extension
Also on Sunday, Romualdez assured the passage of a proposed law seeking to extend the National Housing Authority (NHA) charter, which will expire in 2025, in order to help President Marcos build a million new houses per year until 2028 to meet the total 6.15 million housing backlog.
"It is our commitment to ensure the success of President Marcos' housing program that would bring a meaningful change and significant impact to the lives of ordinary Filipino people," Romualdez said.
"The proposal will drive progress and address the need for decent housing of every Filipino family."
Romualdez and Senior Deputy Majority Leader Sandro Marcos of Ilocos Norte's First District filed House Bill No. 8156, or An Act Strengthening the National Housing Authority, Extending its Corporate Term, and Amending for this Purpose Presidential Decree No. 757, on May 16.
The Department of Human Settlements and Urban Development's (DHSUD) "Pambansang Pabahay para sa Pilipino (National Housing for Filipinos)" program is seen to benefit around 30 million Filipinos within six years.
From September to December last year, DHSUD has signed memorandums of understanding with 47 local government units to help work on the housing initiative.
No coup
Talks of a House "coup" surfaced after Pampanga 2nd District Rep. Gloria Macapagal-Arroyo slid on Wednesday night from Senior Deputy Speaker to Deputy Speaker, replaced by her province mate Rep. Aurelio Gonzales Jr. of the Third District.
Arroyo downplayed the move as a House prerogative.
"As I have learned during my three decades as a politician, such events are part and parcel of Philippine politics. Still, I do not want it to precipitate or intensify any tendencies towards early politicking. We are just barely a year into the administration of President Marcos, Jr., and it would be unfortunate if early politicking resulted in any dilution of the tremendous mandate that the UniTeam, led by our President, earned in the 2022 elections. After all, the President ran on the platform of unity," Arroyo said in a statement on Friday.
House Deputy Speaker Ralph Recto of Batangas province's Sixth District said "no wound needs healing as none was inflicted."
"This is a tempest in a teacup that will not wash away a strong alliance between close partners who share a common vision of a prosperous and peaceful country," Recto said in another statement. "The fog of miscommunication will soon clear, the vow of cooperation will be renewed and attempts to drive a wedge between them shall have failed The country has so many problems. Congress is focused on solutions. It will not feast on intrigues."
Instead of politicking, Romualdez said the country's leaders should focus on problems hounding Filipinos.
"Kung mas mapagtutuunan natin nang mas maraming oras ang paghahanap ng solusyon sa mga tunay na suliranin ng karaniwang Pilipino, sama-sama tayong babangon muli (If we can pay more attention on the worries of ordinary Filipinos, we will rise together)," Romualdez said. (PNA)