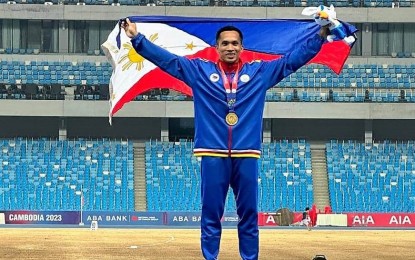 MANILA – The Philippines will send 10 athletes to the Taiwan Athletics Open scheduled on May 27-28 in New Taipei City, Chinese Taipei.
Cambodia SEA Games gold medalists Janry Ubas (long jump) and Frederick Ramirez (4x400m relay) will banner the team set to leave on Thursday.
Also competing are Leonard Grospe (high jump), Clinton Bautista (110m hurdles), Sonny Wagdos (5,000m, 10,000m), Johnmike Lera (long jump), Edgar Carado (800m, 1500m), Abcd Agamanos (triple jump), Lianne Pama (100m, 200m) and Hokett delos Santos (pole vault).
Coaches Sean Guevara, Dario de Rosas, John Lozada and Emerson Obiena will accompany the athletes.
Ubas, 29, is looking forward to another title victory after his winning performance in Cambodia.
"The goal is to win the gold medal at the Taiwan Open," said the 29-year-old native of Villanueva, Misamis Oriental province, in an interview on Monday. "I'm keeping a positive attitude. Everyone wants to win."
Ubas, who debuted in the 2005 Singapore SEA Games, registered 7.85 meters to win the gold in Cambodia. He also won silver in decathlon, an event he won in 2019 in record-breaking fashion.
Last year in Vietnam SEA Games, Ubas bagged the bronze medal (7.73) after finishing third behind Vietnamese Nguyen Tien Trọng (7.80) and Sapwaturrahman (7.61).
Ramirez is a member of the 4x400m team with Michael del Prado, Joyme Sequita and Umajesty Williams. He likewise secured a bronze medal in the 400m event won by Malaysian Umar Osman. Williams settled for the silver medal.
Wagdos delivered a silver medal in Cambodia. He placed second to Thai Kieran Tuntivate while Singaporean Robi Syianturi was third.
The Taiwan Open is part of the national team's preparation for the Asian Games which will take place from Sept. 23 to Oct. 8 in Hangzhou, China. (PNA)