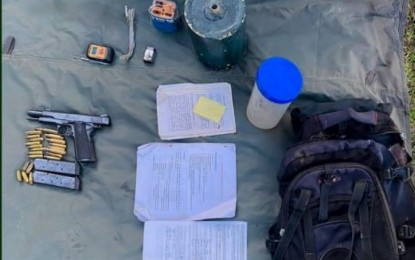 BACOLOD CITY – Another New People's Army rebel was killed in a clash with troops of the Philippine Army's 15th Infantry Battalion (15IB) in the southern town of Cauayan, Negros Occidental Sunday afternoon.
The fatality, who was the 10th communist rebel to have died during the series of encounters in Negros Island over the weekend, has yet to be identified as of Monday afternoon.
Lt. Col. Michael Cuarteros, commanding officer of 15IB, extended his sympathies to the family of the slain rebel as he urged the remaining combatants to abandon the armed struggle.
"The community understands that real progress and development can only be achieved by ending local communist armed conflict," he said in a statement.
Second Lt. Weann Sandag, the civil-military operations officer of 15IB, said the soldiers engaged the rebels from the NPA's South West Front after receiving reports of the presence of armed men in Sitio Bajay in Barangay Caliling, where the troops have been conducting a mobile community support sustainment program.
The five-minute firefight at around 3 p.m. resulted in the death of the NPA fighter, whose body was brought to the Cauayan District Hospital.
After the security operation, the troops recovered a caliber. 45 pistol, an anti-personnel mine with detonating device and blasting cap, two magazines, several rounds of ammunition, a backpack, and subversive documents.
Meanwhile, the bodies of the five NPA fighters killed during a series of encounters in Barangay Quintin Remo, Moises Padilla town early Saturday morning have already been identified and claimed by their families, the Philippine Army said.
The rebels, belonging to the NPA's Central Negros Front 1, encountered troops of the 62nd Infantry Battalion (62IB) three times prior to the gunfight.
The first encounter was in Sitio Napiluan at 5:05 a.m., then in Sitio Oway-Oway about 40 minutes later.
At past 7 a.m., the blocking team of 62IB engaged withdrawing rebels in another firefight.
During the pursuit operation on Sunday morning, four more NPA rebels died when they clashed anew with the 62IB troops in Barangay Trinidad, Guihulngan City, Negros Oriental.

The four NPA rebels who were killed during the clash had already been identified and released to their families on Monday.
One of them was the 80-year-old Sazel Babor, of Sitio Cambawgon of Barangay Trinidad, and his 31-year-old son Jorelyn Pelod Babor, of Barangay Macagahay, Moises Padilla town in Negros Occidental; Rolly Mihay Beñero, 22; and Cristitu Canja Nilles, 26, both residents of Sitio Banderahan in Barangay Trinidad.
All four were members of the Section Guerilla Unit (SGU) Platoon of the NPA's Central Negros 1 guerilla front.
Biñero was also reportedly a member of the NPA's Special Partisan Unit (SPARU) that carries out assassinations, police investigation showed. (With a report from Mary Judaline Partlow PNA)