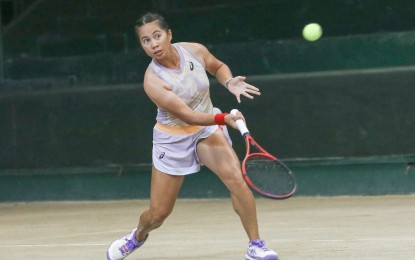 MANILA – Top seed Marian Capadocia stamped her class over Mikaela Emana, 6-2, 6-0, to reach the second round of the women's singles of the Metro Manila Open at the Philippine Columbian Association (PCA) in Paco, Manila on Monday.
Capadocia, who saw action at the Cambodia Southeast Asian Games (SEAG) last week, will next meet Ana Clarice Patrimonio on Wednesday.
Patrimonio, a silver medalist at the 2017 Kuala Lumpur SEAG, marched into the second round after posting a 6-2, 7-6 victory over Jessica Mae Carcueva.
"I think my preparation for this tournament was better than last year's PCA Open," Capadocia, the seven-time PCA Open singles champion, said. "But I'm not expecting anything. I want to take it one match at a time."
Capadocia lost to teenager Jenaila Rose Prulla, 3-6, 6-7 (3) in the PCA Open final last year.
She was the youngest PCA Open champion when she won in 2011 at the age of 16. She bagged the title again from 2012-2014 and 2017-2019.
Meanwhile, second seed Alexa Milliam and fourth seed Kaye Ann Emana will join Capadocia in the next round.
Milliam outplayed Tenniel Madis of North Cotabato, 6-4, 3-6, 7-5, while Emana survived national player Shaira Hope Rivera, 7-6, 3-6, 6-4.
United States-based Makeliah Nepomuceno likewise earned a second-round berth after beating Sandra Bautista, 6-1, 6-0.
The sixth-seeded Nepomuceno will be up against Annika Diwa, who defeated Maria Divinagracia, 7-5, 6-3.
Other first-round winners were No. 7 Althea Faye Ong over Joanna Peña, 7-5, 6-0; qualifier Kaye Laurice Mustaza over Ma. Patricia Lim, 6-2, 6-0; wild card Kim Iglupas over Steffi Aludo, 6-4, 6-2; wild card Jessele Marie Ante over qualifier Jeannirose Barcia, 6-1, 6-0; Tiffany Nocos over qualifier Chloe Marie Mercado, 6-3, 6-4; Mikaela Vicencio over Joanna Tan, 7-6, 7-5; and Elizabeth Abarquez over Miles Vitaliano, 6-3, 6-0. (PNA)