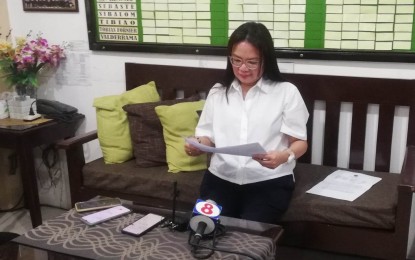 SAN JOSE DE BUENAVISTA, Antique – The province of Antique will implement a manual voting system during the synchronized Barangay and Sangguniang Kabataan Election (BSKE) on Oct. 30 this year.
Commission on Elections-Antique Provincial Director Salud Milagros C. Villanueva said during a press conference at the poll body's provincial office here on Monday that "Antique is not included in the pilot areas for the automated election during the BSKE."
She said for this year's election, the automated election system will be piloted only in some selected areas in the country in line with the plan of the Comelec to eventually automate the BSKE.
She also said that with the manual election process, voters in Antique will have to write the names of their candidates on the ballots instead of shading them under the automated process.
The canvassing of votes will also be done manually.
"Voters will be provided with two separate ballots -- one for the barangay and the other for the SK election so as to avoid confusion among the voters," Villanueva said.
She further said that as of March 6, the province of Antique has 551,468 out of the total 6,977,860 voters for the BSKE in Western Visayas.
There are currently 404,233 registered voters for the barangay election who are at least 18 years old while there are 147,235 15 to 30-years-old voters for the SK election.
"There will be 521 voting centers in the 18 towns of the province that will be opened to accommodate the voters during the election day," Villanueva noted.
She also said Comelec-Antique is now ready for the election although the filing of the certificate of candidacy will be from Aug. 28 to Sept. 2 yet.
Villanueva warned the candidates against premature campaigning under the Omnibus Election Code.
"Candidates are being reminded that once they have already filed their COC, they are already considered candidates so they have to avoid premature campaigning," she said. (PNA)