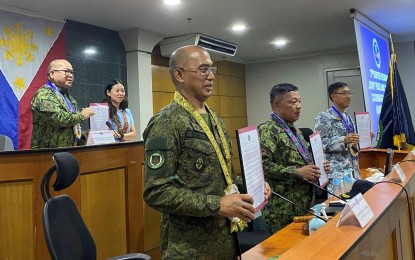 BACOLOD CITY – Mayor Alfredo Abelardo Benitez welcomed on Monday the declaration of this city as "insurgency-free" during the recent Regional Joint Peace and Security Coordinating Center (RJPSCC) meeting held at the Bacolod City Government Center.
"It is very important for our peace and order. If the threat from that sector is contained, then definitely we will have a peaceful and orderly city," the mayor said in a press conference.
Benitez pointed out that economic development remains to be the best solution and tool to address insurgency.
"Once we provide livelihood and create economic development, eventually all of these (concerns) will disappear," he added.
The resolution declaring Bacolod as "insurgency-free" came after a series of successful peace and order initiatives that helped improve the peace and security situation of the city, including the City Council's declaration of the Communist Party of the Philippines-New People's Army (CPP-NPA) as persona non-grata in 2019, the Philippine Army's 3rd Infantry Division (3ID) said.
The signing was led by officials of the Philippine Army, Philippine National Police, Philippine Coast Guard, and this local government unit during the 2nd Quarter RJPSCC meeting convened on May 19.
The signatories included Brig. Gen. Orlando Edralin, commander of 303rd Infantry Brigade; Brig. Gen. Archival Macala, officer-in-charge of Police Regional Office-Western Visayas; and Commodore Arnaldo Lim, commander of Coast Guard District-Western Visayas, in the presence of Lt. Gen. Patrick Villacorte, chief of Area Police Command Visayas; and Councilor Psyche Marie Sy.
In the resolution, the RJPSCC underscored the need for continuous collaboration among the security forces and the community to prevent the resurgence of any communist terrorist group-affiliated sectoral groups and to deter terrorism and other organized crime activities in the city.
"This milestone can be attributed to the sincerity of the people to create an environment suitable for peace and development. Without the active participation of the people in the quest to have an insurgency-free community, this breakthrough would not be possible," Edralin said.
In a statement, Maj. Gen. Marion Sison, commander of 3ID, urged all security agencies to remain on guard and to deny the CPP-NPA any chance to recover their lost ground.
"Our success shall be measured when the people we are serving grow and expand their skills, boosting productivity and economic progress under the bedrock of reliable regional security," he added. (PNA)