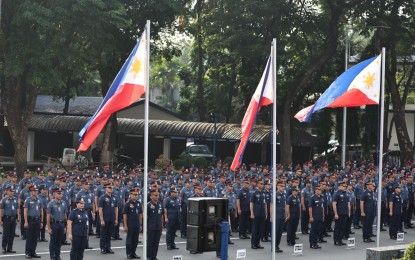 MANILA – The Philippine National Police (PNP) will start the investigation on the release of service recognition incentives (SRI) to police officers for fiscal year 2022 after reports that some received less than the agreed amount.
PNP Chief, Gen. Benjamin Acorda Jr., said they would coordinate with Interior Secretary Benjamin Abalos Jr. and other concerned offices to look into the matter.
"We are constantly coordinating with the SILG (Secretary of the Interior and Local Government). Tinitingnan natin ito kasi kung may reklamo, kumbaga may mga dapat tingnan at iniimbestigahan natin and we are now coordinating with other offices na may kinalaman dito and I am asking them. (We are constantly coordinating with the SILG. We are looking into this because if there is a complaint, it seems that there are things that should be looked into we are investigating and we are now coordinating with other offices that have something to do with this and I am asking them)," Acorda told reporters when sought for comment after the oath-taking, donning, and pinning of ranks insignia for the Newly Appointed Police Commissioned Officers (NAPCOs) in Camp Crame on Monday afternoon.
"We will be sitting down with them to hear for myself, kasama ng aking command group, and we might be inviting also from the other officers ng DILG to see to it and hear together kung ano po yung explanation na ito and from there, we can see kung ano ang next move natin (We will be sitting down with them to hear for myself, together with my command group, and we might be inviting other officers of the DILG to hear together what this explanation is and from there we can see our next move)."
Earlier, Abalos said he would also seek guidance from the Department of Budget and Management (DBM) regarding the policies on the payout of the incentive.
President Ferdinand R. Marcos Jr., through Administrative Order (AO) 1, authorized in December last year the release of a one-time SRI for employees in the executive branch in recognition of the collective and invaluable contribution to the government's continuing efforts to ensure the responsive delivery of services, especially amid the public health emergency due to the pandemic and other socio-economic challenges.
The AO authorizes the grant of a one-time SRI at a uniform rate not exceeding PHP20,000 for those working under the executive department.
Meanwhile, Acorda urged all the police commissioned officers to continue learning and growing as professionals, always striving to be the best they can be as he reminded them of their responsibility to serve the people and encouraged them to seek guidance from God.
"Let us embody the spirit of 'Serbisyong Nagkakaisa' as we serve and protect our fellow Filipinos. Remember to serve well and in harmony with your fellow police officers, to other government agencies, and to the community that relies on our service and protection," he said.
Acorda emphasized the significance of their roles, stating, "As newly appointed police commissioned officers, you have already proven your capabilities in your respective fields, and now it is time to channel that expertise into the law enforcement arena. You will be entrusted to lead while upholding justice, protecting the innocent, and ensuring the safety and security of our nation. This is a sacred duty that requires integrity, courage, and compassion."
Among the appointees were 91 Technical Officers, and 515 Line Officers, all chosen under the PNP Lateral Entry Program CY 2022 for Line and Technical Officers.
Under the program, 29 lawyers, four priests, two pastors, and seven doctors were appointed to the initial rank of Police Captain, entitling them to a basic monthly salary of P56,582.
The remaining 564 newly appointed PNP officers, which include dentists, psychologists, architects, engineers, chemists, IT (information technology) specialists, and line officers were appointed to the initial rank of Police Lieutenant, with a basic monthly salary of PHP49,528, along with allowances and various cash and non-cash benefits.
The successful candidates of the Lateral Program have undergone a stringent selection process, demonstrating their commitment to excellence, professionalism, and the core values of the PNP.
All newly appointed police commissioned officers are formally turned over to the Directorate for Human Resource and Doctrine Development (DHRDD) to undergo the mandatory Officer's Basic Course and Field Training Program before reporting to their respective unit assignments.
The PNP Lateral Entry Program serves as one of the primary channels for recruiting technical and line service officers into the PNP, alongside the cadetship program offered at the PNP Academy.
These programs contribute to the regular sources of Police Commissioned Officers (PCOs) within the PNP.
Enhancing ties with communities
Also on Monday, the PNP through the Directorate for Police Community Relations (DPCR) officially launched the PCR Compendium Policies as part of its ongoing efforts to enhance community engagement and foster stronger ties between the police and the communities they serve.
The PNP DPCR has developed the Compendium Policies to serve as a comprehensive guide for PNP personnel, providing them with a clear framework and guidelines for effective community relations.
These policies underscore the PNP's commitment to upholding transparency, accountability, and trust within the community.
The Compendium Policies outline protocols for community outreach programs, cooperation with local stakeholders, and proactive measures to address concerns and build mutual respect.
By adhering to these policies, the PNP aims to strengthen its partnership with the public and improve overall community safety and well-being.
"The success of our mission to maintain peace and order greatly depends on the trust and cooperation of the community. The Compendium Policies will serve as our guide to foster positive relationships, empower communities, and ensure public safety," Acorda said during the launch held at Camp Crame, Quezon City.
DPCR director Maj. Gen. Mario Reyes thanked all stakeholders, including local government units, non-governmental organizations, and community leaders, for their invaluable support and input in developing the Compendium Policies.
Their collaboration, he said, reinforces the shared commitment to a safer and more secure country.
Reyes said the PNP is dedicated to implementing the Compendium Policies effectively across all police units nationwide.
He also assured that the DPCR would continuously review and refine these policies based on feedback and evolving community needs. (PNA)