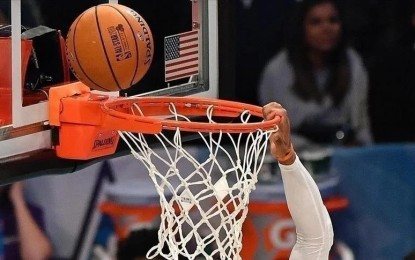 ISTANBUL – Carmelo Anthony, a 10-time NBA all-star, on Monday announced his retirement after nearly two decades on the court with six different NBA teams.
"I remember the days when I had nothing. Just a ball on a court with a dream of something more. But basketball was my outlet," Anthony said in a video posted on Twitter.
"My purpose was strong, my communities, the cities I represented with pride and the fans that supported me along the way. I am forever grateful for those people and places cause they made me Carmelo Anthony."
"But now the time has come for me to say goodbye," he added.
Anthony scored 28,289 points during his 19-year NBA career, putting him ninth on the list of the all-time highest point-scorers in the competition.
The 38-year-old made his final appearances last season as a member of the Los Angeles Lakers.
"He retires as the No. 9 scorer in league history. Only LeBron James, Kareem Abdul-Jabbar, Karl Malone, Kobe Bryant, Michael Jordan, Dirk Nowitzki, Wilt Chamberlain, and Shaquille O'Neal scored more than Anthony," the NBA said in a statement.
He tipped off his NBA career with the Denver Nuggets but also played for the New York Knicks, Oklahoma City Thunder, Houston Rockets, and Portland Trail Blazers. (Anadolu)