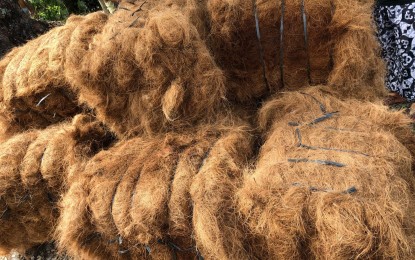 TACLOBAN CITY – The Regional Inclusive Innovation Center (RIIC) has identified developing coco coir as a priority in Eastern Visayas to address environmental concerns and raise the income of coconut farmers.
During a gathering at the Summit Hotel here Tuesday, officials from national government agencies and academe drafted the regional coco coir roadmap for innovation identifying existing resources that can help develop processing.
"Given the trend on organic farming, there is high potential for coco coir. We noticed that the existing manual process is tedious. We must introduce innovations to add value to what is considered as coconut farming waste," DTI Eastern Visayas assistant regional director Ma. Delia Corsiga said.
Citing records from the Philippine Coconut Authority (PCA), Corsiga said the region has nine operating coco coir processors in 2021 in Leyte and Southern Leyte provinces producing 4,391 hanks of coconut fiber.
A hank, in textile manufacture, is a unit of measure applied to a length of yarn or a loose assemblage of fiber forming a single strand and varying according to the fiber origin. Normally, a hank is 770 meters long.
"The mounting coconut husks from copra production is one of the environmental issues. We must identify sources of equipment and technology to process husks into fiber. Through RIIC, government agencies and the academe collaborate to develop the commodity," Corsiga added.
Coconut coir comes from a waste product when farmers harvest coconut to get meat and water.
The Philippine Center for Postharvest Development and Mechanization (PhilMech) said that through processing, one can harvest coco fiber and coco peat from it.
The coco peat, also known as coir pith or coir dust, is the spongy lightweight particle which falls out when the fiber is separated during the extraction of coconut fiber.
These by-products are being used in both agricultural and industrial sectors. The fiber is utilized in making rope, mattress, car seats, and other cushions, coco nets as a preventive solution for soil erosion, and many more.
The coco peat is now becoming popular for its horticultural uses such as substrate and medium in hydroponics system, according to PhilMech. (PNA)