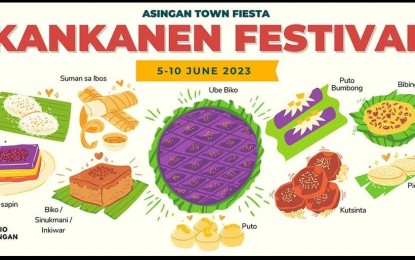 ASINGAN, Pangasinan – The local government here is eyeing to place the town on the world's map in an attempt to log a world record for the longest-lined native rice cake in the upcoming Kankanen (native rice cake) Festival.
In a virtual forum hosted by the Philippine Information Agency Pangasinan on Tuesday, Asingan tourism officer Michael Soliven said the festival aims to promote the glutinous rice products of the residents given that 80 percent of the town is agricultural land.
"This is to support and promote their products such as the glutinous or sticky rice which is the main ingredient of the kankanen. Mayor Carlos Lopez Jr. also would want the town to be known through the attempt for longest lined native rice cake in the Guinness Book of World Records," he said.
The Kankanen Festivals will run from June 5 to 10 and will be highlighted by the town's attempt at the world record on June 9.
Soliven said it will be held in front of the town's municipal plaza where they will line up at a long table a kilometer long of native rice cake.
He said some 2,000 kilograms of sticky rice will be used for the rice cake relay.
"It will be for free to all those who will attend," he added.
Soliven said kankanen making is a common livelihood of the residents of the town and has also symbolized over generations the unity and harmony among the people in the locality.
Kankanen Festival was started in 2011 by the Department of Education. It was adopted by the local government unit as the town's very own festivity in 2019.
The annual celebration was stopped due to the pandemic but resumed last year.
Asingan information officer Romel Aguilar, in the same forum, said tourists may also visit their municipal plaza to enjoy dairy farm products from the Bantog Samahang Nayon, a group known for their fresh carabao milk products.
There will also be the street dancing competition, medical mission, skateboard competition, raffle, beauty pageants, basketball exhibition game, and the 1st Bornok Mangosong Enduro Race challenge, among others.
Asingan is a second-class municipality in Pangasinan where the late former President Fidel V. Ramos hails from. (PNA)