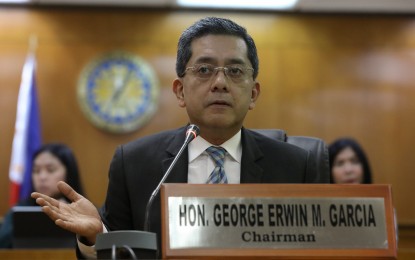 MANILA – The Commission on Elections (Comelec) is looking to resolve the accreditation of the Kilusan ng Nagkakaisang Pilipino (KNP) by early June.
Comelec chairperson George Erwin Garcia said the new political party has to submit its memorandum within five days after which the commission en banc will decide on their application for accreditation.
"After they file a memorandum, maybe a matter of one week. Two weeks is too long for us to resolve whether they should be given accreditation or not," he said in an interview after the hearing at the Comelec main office in Manila Tuesday.
Asked if they can come up with a resolution by early June, Garcia said it's possible.
"Actually yes, that's internal to all of us who accredit political parties whether national, regional or local parties we always order our field personnel to verify the existence of the party," he said.
The petition for accreditation was filed by Bacolod City Mayor Alfredo Abelardo Benitez, who is also the party president.
Among the other officials of the party are Mandaluyong Mayor Benjamin Abalos Sr., vice president for National Capital Region; Cagayan de Oro 2nd District Rep. Rufus Rodriguez, secretary general; Leyte 4th District Rep. Richard Gomez, vice president for Visayas; and Zamboanga del Sur 1st District Rep. Divina Grace Yu, vice president for Mindanao.
In a previous statement, Benitez said the party was formed by members of Congress and other elected officials supporting the Marcos administration.
Garcia noted that the Comelec en banc has taken jurisdiction over the petition as there were no oppositions received.
Under new rules, the seven-member panel will hear such petition in the absence of opposition. Otherwise, they will refer it to a division.
"We had a resolution before that all petitions for accreditation of political parties and party lists must be heard by en banc, but if there is opposition, we will immediately refer the petition to a division," the Comelec head explained.
"Because no one objected, the en banc exercised jurisdiction," he added.
Garcia said they were informed that the KNP exists in 11 regions in the country, as the existence of the party is one of the requirements for accreditation.
"We asked our field personnel to verify the existence of the party. We were informed that the KNP political party exists in at least 11 regions," he added.
The Omnibus Election Code states that a political party must be duly registered with the Commission for it to acquire a juridical personality, qualify it for subsequent accreditation, and to entitle it to the rights and privileges granted to political parties. (PNA)