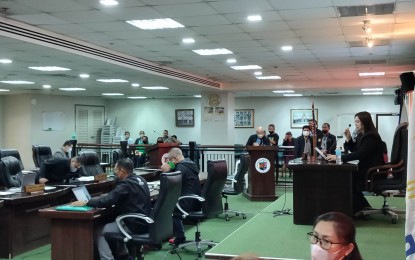 ILOILO CITY – The Sangguniang Panlalawigan (Provincial Board) of Iloilo is crafting an ordinance requiring all municipalities, city, barangays, school administrators, farmers and subdivision developers and owners for the mandatory tree-planting activity with corresponding penalties for would-be violators.
Proposed Ordinance number 2022-07-02 authored by Vice Governor Christine Garin targeting the mandatory tree planting in public areas, eco-parks, open areas/spaces, plazas, school campuses and housing subdivisions in the province has been calendared for second reading next regular session following the approval of the report of the committee on environment and natural resources during Tuesday's session.
Committee chairperson Board Member Marcelo Valentine Serag, in rendering his report, said that as per their consultation, among those proposed to be included as participants in the tree planting will be retiring provincial government employees or those seeking promotion, and couples who are getting married.
"The Municipal Environment and Natural Resources Office and the Provincial Government Environment and Natural Resources Office will be the ones responsible to certify for the said employees. They will be the ones tasked to further check and monitor that employees indeed planted trees prior to the issuance of the certification," the committee report said.
Further, corn growers and farmers are also targeted to be among the participants and they will be required to plant at least 50 seedlings of fruit-bearing trees beside their cornfield for every one hectare of land they cultivate.
During their public consultation, it was suggested by Mitzi Peñaflorida of the Provincial Government Environment and Natural Resources Office that corn farmers also adopt Sloping Agricultural Land Technology in areas above 18 degrees slope as soil and water conservation measures.
The proposed ordinance is expected to get an allocation between PHP5 million to PHP10 million annually to establish additional nurseries and tree-planting activities in the province. (PNA)