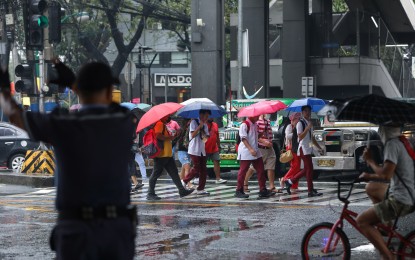 MANILA – The Philippine Coast Guard (PCG) has readied deployable response groups and quick response teams in the regions of Cordillera and Ilocos in preparation for the weather disturbance "Mawar".
In a news release Tuesday, the PCG said officer-in-charge Vice Admiral Rolando Punzalan Jr. ordered district commanders to ensure that PCG stations and substations nationwide, especially in Northern Luzon, are ready for "Mawar", to be named "Betty" once it enters the Philippine Area of Responsibility on Friday or Saturday.
The PCG is also imposing stricter inspection of boats and other sea vessels to ensure safety of crew and passengers.
Search and rescue teams are also on standby and ready for deployment in areas that might get flooded.
Crew and fisherfolk are reminded to constantly monitor weather updates.
Relief supplies and family packs for distribution to evacuation centers are also being prepared by the PCG Auxiliary Group.
Punzalan advised residents in flood-prone areas to follow authorities and evacuate.
Prepositioned food packs
In a Palace briefing, Department of Social Welfare and Development (DSWD) Secretary Rex Gatchalian said they are likewise prepared.
"We have prepositioned goods … everywhere in the country," Gatchalian told reporters.
"We have worked with PAGASA (Philippine Atmospheric Geophysical, Astronomical Services Administration) on the modeling that it seems going to, it seems at this point, kasi it's very early. It's going to affect Regions 2, Regions 1, all the way to Batanes," he said.
Gatchalian said DSWD has augmented the stockpile of food packs in northern Luzon.
"Right now, ang average kasi nila (their average) will be around 30,000 to 50,000 in those two regions, independently of each other. Naka-preposition na iyon (Food packs have already been prepositioned). But we are doubling it up. The goal here is to double it before the end of business tomorrow (Wednesday)," Gatchalian said, adding that they started mobilizing as early as the weekend.
The food packs will be in areas with DSWD field offices, which are working with the local government units for logistical support.
Gatchalian assured there is enough fund for disaster response and that the quick response fund (QRF) from the national government could be readily made available.
"Remember in the quick response fund natin, part n'ya (part of it) is preparedness, making sure that handa tayo (we are ready) even before the storms come in. At DSWD, we have a full department doing disaster response," he said.
Coordination
The Department of the Interior and Local Government (DILG) directed all its regional directors to coordinate with their respective Regional Disaster Risk Reduction and Management Councils (RDDRMCs) continuously and to remind all local government units (LGUs) to prepare for Mawar.
In an advisory on Tuesday, the DILG said all LGUs, especially those in areas with recent experience of extended or prolonged rain occurrences and/or landslides or floods, shall continue to monitor all PAGASA weather advisories and typhoon bulletins.
LGUs are also ordered to utilize HazardHunterPH to generate indicative hazard assessment reports on their respective jurisdictions.
Local DRRMCs are also directed to convene and conduct pre-disaster risk assessments for floods, flash floods, rain-induced landslides, debris flow, and strong winds.
The DILG said communities must also be continuously informed and advised of situation updates and preparations.
LGUs are also expected to conduct pruning of trees and vegetation and clearing of waterways such as canals and drainages.
If deemed necessary, LGUs are also urged to conduct preemptive evacuation and avoid areas affected by repeated flooding and landslides, meandering rivers with hillsides/riverbank erosion, floodplains with shifting and braiding streams, coastal areas affected by storm surge, flash flood areas, river deltas with many distributary channels, etc.
DILG Secretary Benjamin "Benhur" Abalos Jr. said he hopes to mitigate any casualties through these proactive and preventive measures against the super typhoon.
"With the advisories given by PAGASA, we need to brace ourselves and get ready to avoid casualties and other damages expected to be brought about by this potential weather disturbance," Abalos said.
Guam-Manila flight cancelled
United Airlines on Tuesday canceled its Guam to Manila flight as the US territory braces for "Mawar."
Flight UA 183 is supposed to depart Guam at 7:15 p.m. and arrive in Manila at 9:10 p.m., but United's website indicated the flight was canceled due to forecasted severe weather conditions.
In a message posted on YouTube, Governor Lou Leon Guerrero placed Guam under Condition of Readiness 1, effective 1 p.m. Tuesday, which means damaging winds and rains may start within 12 hours of the announcement.
"Forecast show Mawar is likely to pass our region as a Category 3 typhoon," she said.
Meanwhile, Philippine Airlines' flight PR 111 from Guam landed in Manila at 7:36 a.m.
Mawar was last tracked 2,285 km east of the Visayas as of 3 p.m.
It is forecast to drag the southwesterly windflow, which will cause rains over parts of the country. (With reports from Ma. Cristina Arayata/PNA)