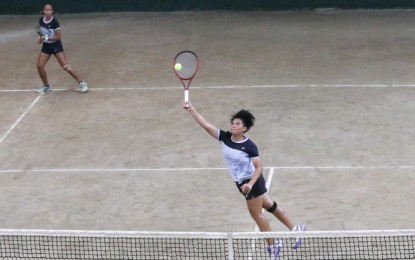 MANILA – Top seed pair Shaira Hope Rivera and Alyssa Mae Bornia rallied past Nichole Dela Rita and Princess Debbie Gom-os, 5-7, 6-1, 10-7, to reach the women's doubles quarterfinal of the 2023 Metro Manila Open by Philippine Columbian Association (PCA) tennis tournament at the PCA shell courts in Paco, Manila on Tuesday.
Rivera and Bornia, the reigning PCA Open doubles champions, will next meet qualifiers Joshea Malazarte and Rochelle Velez, who scored a 6-7, 6-3, 10-5 victory over Althea Faye Ong and Melanie Dizon.
The pair of qualifiers Elizabeth Abarquez and Rovie Baulente advanced after ousting second seeds Kaye Anne and Mica Ella Emana, 7-5, 6-3.
Abarquez and Baulente will be up against Dana Mariella Abad and Steffie Marithe Aludo, who defeated Clarice Patrimonio and Alexie Santos, 6-3, 7-5.
National player Kim Iglupas and partner Roxanne Resma also made it to the next round after eliminating fourth seeds Mile Vitaliano and Patricia Lim, 6-1, 6-0.
Iglupas and Resma will face Alexa Joy Milliam and Jessel Ante, who prevailed over Maria Divinagracia and Joanna Tan, 6-1, 3-6, 10-2.
Meanwhile, third seed pair Marian Capadocia and US-based Makeilah Nepomuceno downed Czarina Mae Arevalo and Bambi Zoleta, 6-1, 6-0, to arrange a quarterfinal showdown with Angeline Alcala and Tenniele Madis, who prevailed over France Idjao and Anika Diwa, 7-5, 1-6, 10-4.
The tournament offers PHP300,000 to the men's singles champion and PHP150,000 to the women's singles champion. Cash prizes at stake in the doubles competition are PHP80,000 in the men's division and PHP50,000 in the women's and mixed divisions, respectively. (PNA)