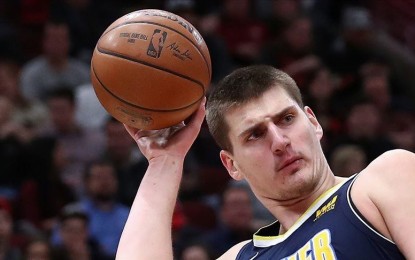 MANILA – The Denver Nuggets sealed its place in the NBA Finals after sweeping the Los Angeles Lakers in the Western Conference Finals through a 113-111 Game 4 win on Tuesday (Philippine Time) at the Crypto.com Arena in Los Angeles.
Nikola Jokic scored the winning basket with 51.2 seconds left as LeBron James misfired in the end and the Nuggets put an end to the Lakers' inspiring playoff run.
Jokic drove past the Lakers double team and swished in the go-ahead layup to put the Nuggets ahead.
James had two attempts to force overtime, but he totally misfired a tough jumper before shot clock expired and had his last gasp layup blocked by Aaron Gordon as time ran out on the Lakers.
Jokic finished with 30 points, 14 rebounds, 13 assists, three blocks and one steal for the Nuggets, who will be entering the championship round for the first time in their franchise history.
Jamal Murray added 25 points, three rebounds, five assists, two steals and one block, while Gordon chipped in 22 points, six rebounds, five assists and two blocks.
James finished with 40 points, 10 rebounds, nine assists and two steals, while Anthony Davis added 21 points, 14 rebounds, one assist, three blocks and one steal for the Lakers, whose Cinderella run where they went all the way to the conference finals despite being the seventh seed and even needing to go through the play-in tournament came to an end. (PNA)