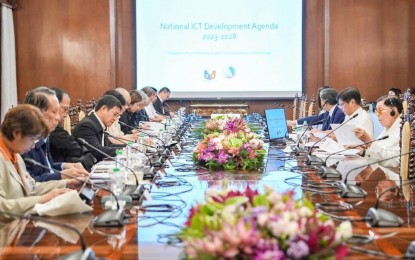 MANILA – President Ferdinand R. Marcos Jr. has directed the Department of Information and Communications Technology (DICT) to conduct a regular upgrade of the e-Gov system to ensure its effective implementation at the local level, Malacañang said Wednesday.
Marcos issued the directive to Information and Communications Technology (ICT) Secretary Ivan John Uy during a sectoral meeting at Malacañan Palace in Manila on Tuesday to discuss the DICT's pending projects and cybersecurity concerns, Communication Secretary Cheloy Garafil said in a statement.
The President told Uy to help the local government units (LGUs) adapt to the rollout of the e-Gov system, a single operating system for all government transactions to ensure faster, more streamlined, and more convenient delivery of public services nationwide.
"So again, it all boils down to that. That's really the essence of digitalization. Let's be sure that we are able to upgrade this system. Set it up to get them (LGUs) ready, so they know how to operate it," he said, as quoted by the Presidential Communications Office (PCO).
"Let's capacitate our LGUs so they can adapt to the system," Marcos told Uy.
In December 2022, the DICT launched the eGov Super App, a platform that seeks the development, implementation, and integration of e-Local Government Units (eLGU), e-Government Application (eGovApp), eGovpay, e-Travel, and e-Cloud.
During the sectoral meeting, Uy said the eGov system would enable LGUs to save a lot of money and boost income generation.
"So medyo gagaan 'yung ano natin downloading. Makakatipid ho sila (Downloading would be easier. They would be able to save a lot of money). And their income generation capacity will increase tremendously because there will be efficiencies in the collection," he said.
Garafil said the eGov Super App is set to be launched early next month.
She noted that the priority projects include centralizing government cloud services through e-Cloud; getting citizens' feedback and complaints through e-Report; and integrating all government services into one platform through eGov app.
Other initiatives
Uy also enumerated the DICT's other priority initiatives during the sectoral meeting with Marcos, according to a Facebook post by state-run Radio Television Malacañang (RTVM).
He presented the National ICT Development Agenda 2023-2028 consisting of the National Broadband Plan, Digital Transformation of the National Government, and Enhancing ICT Competency of Filipinos through Upskilling and Reskilling.
\He also discussed the state of Philippine Cybersecurity, the proposed National Cybersecurity Response Organization, and the DICT's ongoing unified countermeasures.
In 2022, the Philippines ranked 71st out of 131 economies in the global Network Readiness Index, a significant jump from its 85th ranking in 2021 because of its good performance on e-commerce legislation, high-tech exports, and ICT services exports. (PNA)