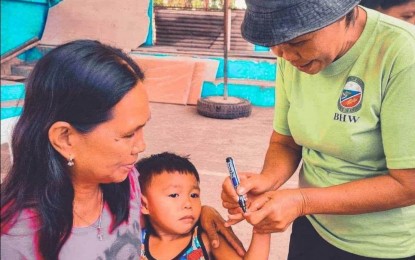 SAN JOSE DE BUENAVISTA, Antique – Health workers implementing the measles-rubella - oral polio vaccine supplemental immunization activity (MR OPV SIA) in Antique are now conducting mop-up activities to ensure that no target kids are left behind with only a few days left before the May 31 deadline.
"With a few more days left, we are still a bit short of our target that the BHWs and other health workers have been instructed to visit the families of these children," said Department of Health (DOH) provincial head Dr. Rommel Garganera in an interview on Wednesday.
He said that as of May 23, the MR accomplishment in the province of Antique is only 59.77 percent which is equivalent to 34,948 out of the 58,472t target.
Further, only 50.06 percent or 34,212 out of the 68,339 target have availed of the OPV.
"There might be children who were not able to avail of the immunization earlier because they had been sick or for some other reasons that they were not brought to the Rural Health Units (RHUs), Barangay Health Stations, and other temporary fixed sites who had to be reached out," Garganera said.
He also said that since the target is based on the projected population there could be a possibility that the actual number of children in the province is lower.
The MR targets children 9 to 59 months old while the OPV was for zero to 59 months.
"We are still hopeful though to raise the immunization coverage with the results especially from the far-flung municipalities still coming in," Garganera said.
He added that since the start of the month-long campaign, the BHWs had done a big part in terms of advocacy and demand generation, especially in the geographically isolated and disadvantaged area (GIDA) in the province. (PNA)