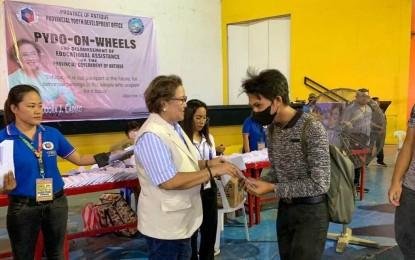 SAN JOSE DE BUENAVISTA, Antique – The provincial government here, through its Provincial Youth Development Office (PYDO)-on–Wheels, has already released over PHP91.78 million in educational assistance to 18,239 college and graduate school student-beneficiaries in Antique.
PYDO head Irish Manlapaz said in an interview Wednesday that the educational assistance was released to 18,239 students from January until May 17 this year.
They looked forward to completing the distribution of the remaining PHP5.85 million intended for 1,170 beneficiaries next week or in the coming days.
"College students were able to receive PHP5,000 each for the first semester while the graduate students were given PHP6,000 individually," Manlapaz said.
She said recipients can use the assistance to buy their books and school supplies, pay for their boarding houses, and their other needs.
"We are now coordinating with the University of Antique (UA) main campus so that we could distribute the remaining assistance," she added.
Manlapaz said PYDO intends to have an onsite distribution since most of the students who are yet to receive aid are enrolled at UA in Sibalom town.
Other students who could not receive assistance during the distribution at the UA are advised to coordinate with the PYDO for the status of their applications.
PYDO started to accept the students' applications and other pertinent documents, such as their school registration form, validated identification card, authenticated birth certificate, certificate of indigency issued by the barangay captain, and certificate not enjoying any scholarship issued by the school in the first week of September 2022.
"The provincial government headed by Governor Rhodora J. Cadiao is giving the assistance in order to inspire the students to finish their schooling," she said. (PNA)