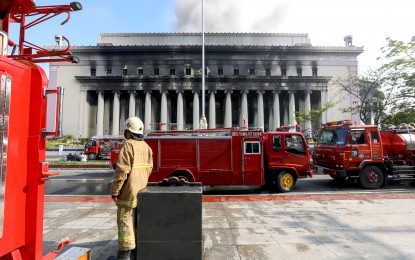 MANILA – Several lawmakers have called on the House of Representatives to investigate the "disastrous" fire that razed the historic Manila Central Post Office (MCPO) building that caused extensive damage to its "historic structure, architectural elements, and invaluable cultural artifacts."
In filing House Resolution 1019, House Committee on Creative Industry and Performing Arts chair Christopher de Venecia and 41 other lawmakers said the probe is necessary considering the MCPO building's significance as a heritage site, with the end view of addressing the government's intervention and mandates.
The probe, the resolution said, would also assess the response mechanisms employed, and evaluate the effectiveness of existing safeguards and preventive measures to avert similar incidents in the future.
"The preservation, restoration, and protection of our heritage sites are of utmost importance, as they contribute to the promotion of cultural tourism, the enhancement of national pride, and the transmission of our history to future generations," it said.
De Venecia cited news reports stating that the historic MCPO building did not have any kind of fire suppression system or even water sprinklers.
"It took about 30 hours to declare fire out. Apparently, this may have been a disaster waiting to happen. We will certainly take a close look to ascertain the real timeline of events from during the fire and the building maintenance and security logs," he said in a separate statement issued on Wednesday.
De Venecia said they would also ask the Bureau of Fire Protection (BFP) and the Government Service Insurance System (GSIS), which insures government property, to identify old buildings of the government that have no fire suppression systems, especially the historic ones, such as the National Museum, the Cultural Center of the Philippines, the National Library, and the University of the Philippines.
The Post Office building, which was declared an Important Cultural Property (ICP) by the National Museum, was inaugurated in 1927 and designed by foremost Filipino architects Tomas Mapua and Juan Arellano.
Under the National Cultural Heritage Act of 2009 or Republic Act (RA) 10066, all cultural properties declared as ICP may receive government funding for its protection, conservation, and restoration in times of armed conflict, natural disasters, and other exceptional events that endanger the cultural heritage of the country.
News reports said the fire started at the MCPO's General Services Department located in the building's basement at about 11:41 p.m. on Sunday.
The fire reached general alarm at 5:54 a.m. and was declared under control at 7:22 a.m.
The BFP has placed the estimated damage to the gutted iconic building at PHP300 million.
Meanwhile, the city government of Manila has allayed fears that a new structure would be erected where the MCPO in Liwasang Bonifacio is located.
In a five-minute live video message posted online on Monday, Mayor Maria Sheila "Honey" Lacuna-Pangan assured the public that MCPO's current location is protected by local and national declarations.
"For those who have doubts that maybe someone else wants to build in the Manila Central Post Office area, according to the local ordinance, the area is an institutional zone. It was also declared in 2018 by the National Museum as an important cultural property. The National Historical Institute declared it as a heritage zone," she said, citing that "as a heritage zone, no other structure can be built (in the area) – only the Manila Central Post Office."
"It is protected by the zoning ordinance. The local and national government cannot build any infrastructure except the Manila Central Post Office," she added. (PNA)