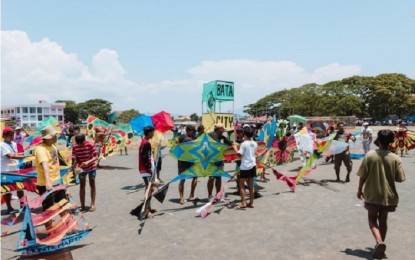 BATANGAS CITY – Kite-flying aficionados in this province have started a movement to encourage the youth to take up a more physically-demanding and outdoor-based activity instead of constantly remaining glued to their mobile devices.
In an interview Wednesday, Papagayong Batangueño president Eric Basit said his organization aims to reintroduce, revive and promote kite making and flying, which is a customary interest among folks in Batangas.
"We have noticed that today's youth are too much into gadgets. There is fewer social interaction, they do not go out of the house anymore. We should be able to teach the next generation so that they know the feeling of flying a kite," Basit said.
Batangas Gov. Hermilando Mandanas administered the oath to Papagayong Batangueño's first set of officers on Monday, soon after the group held elections.
"Kite-flying is a part of the good customs of the province, and a symbol of our high view of a bright future," Mandanas said.
Basit recalled that it was only earlier this year when a handful of serious kite enthusiasts came together to form the group.
From that initial core group, in a space of a few months, Papagayong Batangueño now has members in Batangas City, and the towns of San Jose, Agoncillo, Alitagtag, Sta. Teresita, Bauan, Balayan, Lian, Nasugbu and Tuy, he added.
The art of kite making is included in the traditional cultural expressions domain as provided for under RA 11904 or "The Philippine Creative Industries Development Act."
Last month, Papagayong Batangueño, in partnership with the Provincial Tourism and Cultural Affairs Office (PTCAO), successfully staged the first-ever kite festival in Batangas.
Basit said the newly-organized group and PTCAO plan to stage another kite festival in the province next year.
Meantime, the group will be holding kite-making workshops in the rainy season and will conduct kite clinics featuring modern kites, as the weather permits. (PNA)