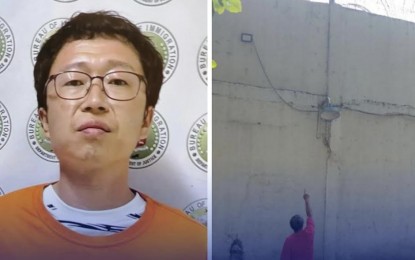 MANILA – The Bureau of Immigration (BI) has launched an intensive manhunt against a South Korean fugitive who escaped the BI facility in Taguig City early Sunday.
Kang Juchun, 38, managed to breach the facility's perimeter by scaling a 20-foot fence with barbed wires at 2 a.m., May 21. Authorities believe he may have sustained injuries after falling.
He was reported to have abused a blind spot in the facility's CCTV camera where he climbed the fence and fell on the cemented road.
"The BI is working in close collaboration with local law enforcement agencies to locate and apprehend him swiftly," said Commissioner Norman Tansingco in a statement Wednesday.
"Specialized teams have been deployed to various locations, following reliable leads to capture the fugitive," he added.
Both the Department of Justice and the South Korean Embassy have also been informed of the incident.
The BI chief said they have increased the height of the perimeter fence with barbed wires and added another watch tower to improve the facility's security.
"This is a serious breach of our facility's security, and have initiated a thorough investigation to determine lapses that allowed this to occur as well as take necessary steps to prevent similar incidents in the future," added Tansingco.
According to the BI, the foreigner was initially apprehended last Feb. 10 by immigration officers at the Ninoy Aquino International Airport (NAIA) Terminal 2 after arriving from Bangkok.
He was found to have a red notice hit from the International Criminal Police Organization (Interpol) for murder charges and abandonment of a dead body.
He was charged and transferred to the BI's facility in Taguig prior to deportation. (PNA)