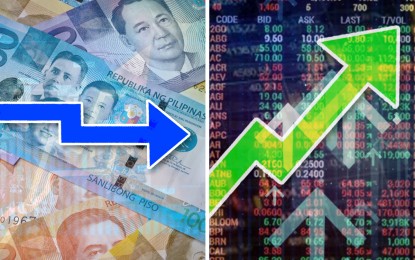 MANILA – The local bourse's main index regained its footing on Wednesday following a statement from the World Bank (WB) of its support for the continued economic expansion and a poverty-free Philippines by 2040, while the peso ended sideways against the United States dollar.
After a two-day slide, the Philippine Stock Exchange index (PSEi) gained 0.19 percent, or 12.39 points, to 6,615.95 points.
All Shares declined by 0.06 percent or 2.06 points, to 3,525.36 points.
Most of the sectoral gauges also ended in the negative territory, with Mining and Oil declining by 0.76 percent; Property, 0.54 percent; Services, 0.29 percent; and Financials, 0.15 percent.
On the other hand, Holding Firms rose by 0.79 percent while Industrial was little changed with a rise of 0.006 percent.
Volume reached around 750 million shares amounting to PHP3.8 billion.
Losers led gainers at 101 to 68, while 50 shares were unchanged.
Luis Limlingan, Regina Capital Development Corporation (RCDC) head of sales, said WB's latest statement of support for the sustained growth of the domestic economy and the achievement of a poverty-free status by 2040 boosted investors' appetite for the local equities market.
"WB's statement overshadowed the worries on uncertainties on debt ceiling negotiations in Washington," he said.
He said investors were also on the wait-and-see stance for the release later in the day of the minutes of the Federal Reserve's meeting last May 2-3.
Oil futures rose in the international market "on forecasts for a tighter gasoline market and a warning from the Saudi energy minister to speculators that raised the prospect of further OPEC+ (Organization of the Petroleum Exporting Countries and 10 more non-OPEC members) output cuts."
Meanwhile, the local currency finished the trade at 55.77, sideways from its 55.725 close a day ago.
It started the day at 55.77 and traded between 55.82 and 55.725. The average level for the day stood at 55.77.
Volume went down to USD890.3 million compared to USD1.19 billion a day ago.
Rizal Commercial Banking Corporation (RCBC) chief economist Michael Ricafort attributed the peso's performance partly to Saudi Arabia's Prince Abdulaziz bin Salman stern warning against oil speculators ahead of the OPEC+ meeting next month.
Ricafort said the warning resulted in the rise in global oil prices to its new two-week high.
Other drivers during the day's currency trading are the upward correction of the US dollar's gauge against other major currencies as well as the hawkish signals from Federal Reserve officials, he said.
For Thursday, Ricafort forecasts the peso to trade between 55.65 and 55.85 against the US dollar. (PNA)