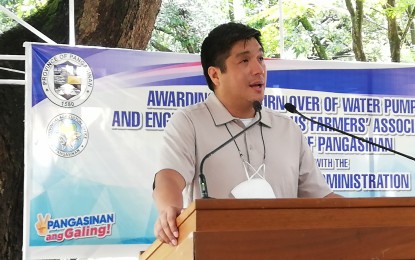 LINGAYEN, PANGASINAN – Pangasinan Governor Ramon Guico III has asked the Bureau of Customs (BOC) to transfer the ship loaded with 1.35 million liters of crude oil to safer ground from Sual Bay ahead of the typhoon that is expected this weekend.
MV Veronica I has been docked at the Sual Bay after it was seized by the BOC for failure to show necessary documents for its cargo worth PHP54 million on May 3.
In a statement released by the Provincial Information Office (PIO) on Wednesday, it said Guico made the appeal to the BOC during a meeting on Monday and through a formal letter from the Provincial Legal Officer.
"The ship should be moved to a safer location to protect the bay area from destruction, in the event the crude oil from the ship leaks into the bay," Guico said.
Upon the recommendation of Commander Mark Theodore Valencia, chief of the Philippine Coast Guard (PCG) Pangasinan, the ship should be allowed to temporarily dock at the pier to prevent the possibility that it will be dragged.
"But it has to be ensured that the evidence, the contents of the ship will be guarded," the governor added.
The Department of Environment and Natural Resources (DENR) suggested that spill booms be installed around the ship when it docks at the pier.
"The DENR also suggested the installation of additional anchors in the ship to stabilize the vessel. The DENR said that their divers found out that the ship dropped its anchor on a muddy substrate," the PIO added.
Pablo Costales, representative of the Maritime Industry Authority (MARINA) extension office in Pangasinan, however, said that the ship could not sail since it has no safety certificate issued by the agency.
In a phone interview on Wednesday, Valencia refused to issue further statement because there is a case pending in court.
The typhoon that will be named Betty once it enters the Philippine Area of Responsibility (PAR) is expected to bring possible rains on the weekend.
Sual Bay, which is a cove facing the Lingayen Gulf, hosts the town's mariculture area where more than 800 bangus cages are located.
Sual and the towns of Bolinao and Anda supply about 80 percent of bangus produced in Pangasinan. (PNA)