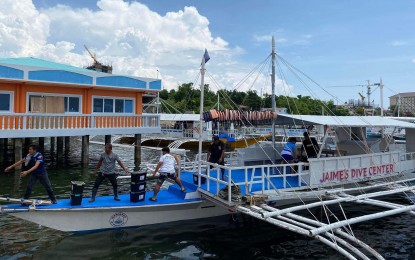 LAPU-LAPU CITY, Cebu – The social welfare office here has prepositioned food and non-food relief items as well as temporary shelter kits in anticipation of Typhoon Betty (Mawar).
Junard Abalos, city social welfare officer, said they have prepared 1,500 food packs, 400 non-food kits, 50 sets of modular tents, and 50 rolls of laminated tarpaulins to be used in making makeshift shelters in case the super typhoon batters the island villages here.
Abalos said the city has also prepared 1,500 food packs and 1,000 non-food packs intended for the residents on the mainland.
These relief and shelter kits are on top of the food and non-food items prepared by the Lapu-Lapu City Disaster Risk Reduction and Management Office (LCDRRMO).
"We also have standby stocks for delivery by supplier just in case kulangon ang atong giandam (what we prepared will run out)," Abalos told reporters in a message.
In a statement, the city said the LCDRRMO delivered 700 relief food boxes to Caubian Island as part of the preparation, in addition to the relief food boxes now in stock.
Caubian Island is the farthest island barangay of Lapu-Lapu.
The city government is currently on red alert, ensuring that all equipment and logistics are in place.
"So far, Lapu-Lapu City Rescue has reported no untoward incidents related to the forecasted track of Super Typhoon "Mawar," which is expected to accelerate in a west-northwestward direction within the next 12 hours before turning westward," the statement said.
Mayor Junard Chan has also directed the LCDRRMO to monitor all coastal and island barangays, particularly on Olango Island for possible effects once the typhoon hit the area.
The emergency preparedness response team in Olango, which includes Lapu-Lapu City Police, Philippine Coast Guard, and Lapu-Lapu City Rescue, has already been activated in anticipation of the typhoon.
Typhoon Betty is poised to enter the Philippine area of responsibility (PAR) on Saturday. It has maximum sustained winds of 185 kilometers per hour (kph) near the center and gustiness of up to 230 kph. (PNA)