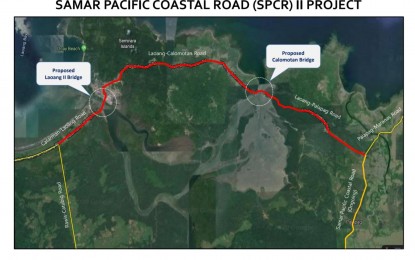 TACLOBAN CITY – Officials in Northern Samar are pushing for the construction of two major bridges and road upgrading as part of the proposed second phase of the Samar Pacific Coastal Road (SPCR) Project to connect five Pacific towns.
The provincial government announced on Thursday that the project has been endorsed by House Speaker Martin Romualdez during the Regional Development Committee (RDC) - Advisory Committee Meeting held at the Romualdez Hall of the House of Representatives on May 24.
"In a letter to National Economic Development Authority (NEDA) Secretary Arsenio Balicasan, Governor Edwin Ongchuan, jointly with (2nd District) Rep. Harris Ongchuan, earlier requested NEDA to include in its priority-funded programs for 2023-2028 the SPCR Project 2 which will link the five Pacific coastal municipalities to the main national road leading to the capital town of Northern Samar," the provincial government said in a statement.
The construction of 360-meter Laoang Bridge 2 and 630-meter Calomotan Bridge will cost about PHP6.6 billion and will take seven years to build, according to the local government.
Civil works include upgrading the 12.5-kilometer existing roads in the Laoang-Palapag Road Junction to Catarman-Laoang Road Junction connecting to the national road network.
The Department of Public Works and Highways has endorsed the concluded feasibility study for the project in 2021. In the same year, the Eastern Visayas RDC endorsed the project, but it remained unfunded this year.
With the SPCR project phase 1 almost completed, provincial officials are set on continuing major infrastructure development projects in the province which will significantly drive local economic growth.
The Korean-funded PHP1.12 billion SPCR project phase 1 in Northern Samar province has opened and concreted 10.25 kilometers out of the 11.6-kilometer road stretch after more than four years of construction.
As of the end of January 2023, the project is already 81.30 percent complete.
Of the three bridges within the new road network, one bridge has been completed -- the Simora Bridge in Palapag, Northern Samar. Jangtud I Bridge is now 98.55 percent complete while Jangtud II Bridge is 70.93 percent done. Both bridges are also located in Palapag town.
Earlier, the DPWH Unified Project Management Office (UPMO) said the onset of the pandemic and bad weather in Eastern Visayas brought major hurdles in the construction since 2018. Various circumstances delayed the target full completion of the road project, which is one of the 119 infrastructure flagship projects under the "Build, Build, Build" program.
The entire project starts at the Simora Junction, and traverses to the remote coastal villages of Laoang, Catubig and Palapag towns. The project is funded by the South Korean government through Export-Import Bank of Korea. It is being implemented by the DPWH UPMO. (PNA)