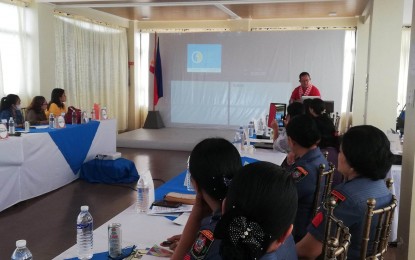 SAN JOSE DE BUENAVISTA, Antique – The Commission on Human Rights (CHR) is urging local government units (LGUs) for a holistic program, including a facility for Children in Situations of Armed Conflict (CSAC) for rehabilitation, before they will be returned to their community.
Christopher Montaño, CHR Regional Office 6 chief of the Promotion and Education Division, said much is yet to be done before the full implementation of the Republic Act 11188 also known as the Special Protection of Children in Armed Conflict Act which was signed into law on Jan. 2019.
"The law is really relevant at this time, but it has to be fully implemented," he said during an orientation held in San Jose de Buenavista on Thursday.
Since the CSAC are rather victims and not children in conflict with the law (CICL), they are supposed to have their facility once they are rescued during the military operations, Montaño added.
Most of the LGUs have their own CICL centers, but no CSAC facility yet where the rehabilitation program could be carried out.
"There are actually two forms of CSAC, those children displaced due to armed conflict and those children involved in armed conflict," he said.
Montaño said that the children involved in armed conflict are those who had been recruited by the rebel group that is the New People's Army (NPA) operating in Western Visayas.
The rehabilitation program will depend on the type of CSAC.
In Antique, six children were rescued by the military in an encounter with the NPA in Miag-ao, Iloilo on April 2020.
"As to what happened to the children after their rescue that is something to find out because there is no facility for them," Montaño said.
Meanwhile, Seth Villaruel, deputy executive director of the nongovernment organization Sulong Peace, said in his message that under the law CSAC will be turned over to the Municipal Social Welfare and Development Office (MSWDO) after their capture.
"The CSAC needs a transformative approach so they would be ready when they are returned to the community," Villaruel said.
He said that the MSWDOs will need special training on how to handle the CSAC.
Sulong Peace Panay coordinator Richard Lestino, in a separate interview, said that through the activity they would be able to come up with plans on how they could further assist the province.
"The NGO will be providing capability training to the LGUs on the management of CSAC," he said.
The one-day orientation was attended by the personnel of the Provincial Social Welfare and Development Office (PSWDO) and their municipal counterparts, the Department of Education, the Philippine National Police, and other concerned government agencies. (PNA)